Swedish Dressage News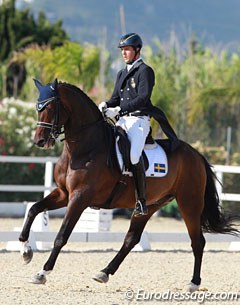 On 24 January 2017, The Swedish Equestrian Federation announced the updated youth riders squads for 2017. The dressage committee has decided to split the competitive Swedish pony, junior and young riders into three squads per age group.
In Sweden the A, B and C-squads have different names. The A-squad is the "top squad" and it includes riders which are eligible for international shows and championships. The B-squad is the "challengers squad" and includes the riders who have the most chance to move into the A-squad.  There is also a C-squad which includes riders that can promote to CDI eligibility either this year or the next. They have to be able to score at leasr 66% at national shows. 
The Swedish team captains are Pytt Hamberg for the pony riders, Marianne Esseen-Soderberg for the juniors and Tina Due-Boje for the young riders. Kerstin André supervises the Swedish youth programme.
The Swedish squads for 2017 are:
Pony Riders - A-squad
Amanda Lindholm  - Holly's Cerwin
Cecilia Bergåkra Berglund - Justice
Ellen Hidgård - Little Diamonds Doolittle
Ellen Olsson - Daylight
Felicia Bermar Vistedt - Djupviks von Linné
Linnea Holmgren - Fleuramos Justin
Moa Sundelöf - HB Dancing Daylight
Sandra A Wickström - Money Boy
Viktoria Wåhlin - Janine 
Pony Riders - B-squad
Alma Müller - Dogge Doggelito
Amanda Barnestam Olsson - Jarno
Ellen Hedbys, - Steendieks Spiderman
Roxanna Nilsson - Nia Domo's Gordon
Pony Riders - C-squad
Cornelia Johansson - Hynder Hoeve's Ramses
Hedda Thunberg Brave Heart
Louise Brantefjord - Victory
My Sandgren - Lykkes Chester
Nicole Crona - Voyager 
Nina Johansson - Twenty Two
Zelma Björk - Maine
Junior Riders - A-squad
Felicia Brännström
Evelina Söderström
Cornelia T Pettersson
Ebba Kjellberg
Esther Kotton
Sofia Buskhe
Junior Riders - B-squad
Junior Riders - C-squad
Rebecka Knutsson
Elin Mattsson
Linnea Williamsson
Vendela Eriksdotter Rubin
Young Riders - A-squad
Emelie Aldenfalk 
Ludwig Wilken
Young Riders - B-squad
Sofie Andersson
Johanna Jendland
Young Riders - C-squad
Cecilia Bergåkra Berglund
Jennifer Lindvall
Beatrice Ivarsson
Photo © Astrid Appels
Related Links
Isaksson, Soderstrom, Tovek, Mattsson, Kittel Win 2016 Swedish Dressage Championships
Pytt Hamberg To Replace Lundberg as Swedish Pony Team Trainer
Swedish Young Rider Horse Jouleen af Hogberget Sold
Emilie Nyrerod's Miata Sold to Swedish Pony Rider Ebba Nilsson
Swedish Team Pony Extrem Sold to Svensson Family
Lillian Jansson Elected Chair of Swedish Dressage Committee