2016 CDIO Hickstead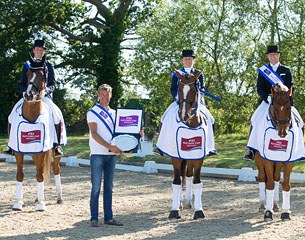 An eighth leg has been added last minute to the 2017 FEI Nations Cup Dressage Series. The CDIO Hickstead will return to the calendar in 2017 hosting a 3* CDI competition alongside a Nations Cup. Hickstead is scheduled as final leg of the series on 27 - 30 July 2017.
At the 2016 FEI General Assembly the FEI Bureau initially confirmed seven legs for the 2017 FEI Nations Cup Dressage Series with two brand new additions to the calendar: Kiev (UKR) and Uggerhalne (DEN).
Hickstead in Great Britain has been a long-standing dressage show venue and has featured numerous Nations Cup competitions, as well as hosted the 2003 European Dressage Championships. In 2016 the show was cancelled for the first time due to a lack of funding.
Hickstead show organizer Dane Rawlins told Eurodressage that the event will be back for 2017 with a Nations' Cup. Remarkably Hickstead was not initially announced as part of the 2017 FEI Nations Cup series
"It (Hickstead) had been entered erroneously by us. A slip of the finger in typing I think from our secretary. We have only just noticed when I've read your article," Rawlins told Eurodressage. "We have run (a Nations Cup) since the beginning of the 'new' start in 2013, but also since we began in 2001 in the old format some 26 years total. We only missed in 2016 due to finances. Carl Hester is one of the people promoting and assisting (with his own money) for 2017 and pushing along with British Dressage and others to help the show go forwards."
The 2017 FEI Nations Cup series with its eight legs:
CDIO 3* Wellington, Florida - 21 - 26 March 2017
CDIO 4* Kiev, Ukraine - 5 - 7 May 2017 
CDIO 5* Compiègne, France - 18 - 21 May 2017
CDIO 4* Uggerhalne, Denmark - 1 - 5 June 2016
CDIO 5* Rotterdam, The Netherlands - 22 - 25 June 2017
CDIO 5* Falsterbo, Sweden - 13 - 16 July 2017
CDIO 5* Aachen, Germany - 19 - 23 July 2017
CDIO 3* Hickstead, Great Britain - 27 - 30 July 2017
Photo © Jon Stroud
Related Links
Seven Legs for 2017 FEI Nations Cup Series Announced 
2016 CDIO Hickstead Cancelled
2016 Global Dressage Forum - Day One: Surprise FEI Revelations, Media and Sponsorship