KWPN Breeding News
Fritz and Claudine Kundrun have decided to bring home their KWPN breeding stallion Ampere to the U.S.A. The 11-year old Dutch warmblood stallion will leave Sweden for Willow Hill Farm in Orange, Virginia, in January 2017.
Ampere, who was originally named Ajong, is bred by A.T. Riesen and sired by Rousseau x Flemmingh. He was the 2008 KWPN Licensing Champions and completed the 70-day Stallion Performance testing as a 3-year old with 88.5 points.
He was owned by the Dutch trio Tamerus Beheer, Nico Witte and Reesink Horses. Through Eugene Reesink the connection was made with the Kundruns and the Americans acquired the young bay stallion in December 2008.
Ampere's competition career has been almost non-existant. The stallion was presented to the public by Judith Ribbels and competed on the 2009 - 2010 KWPN Stallion circuit by Emmelie Scholtens, but in 2010 he moved to Jan Brink's Tullstorp stable in Sweden.
There Brink's staff took the time to rehabilitate Ampere from being overasked at stallion shows at too early an age. Brink's assistant trainer Ida-Linn Lundholm presented Ampere at shows but the horse never had a show career.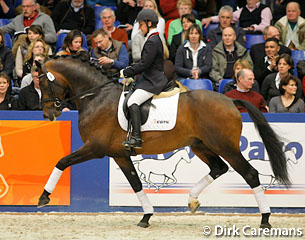 "When he came to Tullstorp for breeding he needed to recover from all the stallions shows, etc," Brink told Eurodressage. "Due to the great market for his semen and the amazing results his offspring have made the owner decided that he could not do both such a serious breeding career and as well focus on a competition career at the same time, both because he would not be able to travel for competitions while breeding and being available for the mare owners but also for the sake of his health, being collected the year around several times a week. So, the focus fast became the breeding career and we have been riding him for his own sake and for our own stallion show."
Ampere became one of Sweden's most popular dressage stallions in the six years he stood at Tullstorp. He led the Swedish breeding rankings in 2011 and 2013.
"Ampère has had an amazing breeding career and has been in Sweden since 2011 and served Europe with fresh semen. Now it is time for him to deliver fresh semen in the US," Brink stated.
Swedish equestrian magazine Ridsport broke the news that Ampere is returning home.
Photos © Tullstorp - Dirk Caremans
Related Links
Ampere Most Popular Breeding Stallion in Sweden in 2013
Ampere, Most Popular Breeding Stallion in Sweden in 2011
Apache, Zhivago and Wynton Win Final Leg of 2009-2010 KWPN Stallion Competition
Ampere Sold to Fritz Kundrun
Ampere Wins 2008 KWPN Spring Stallion Performance Test
Ajong, Champion of the 2008 KWPN Stallion Licensing