2016 CDI Hastings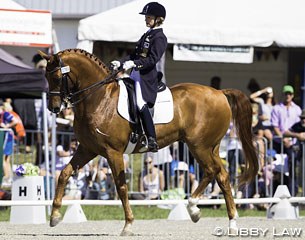 New Zealand dressage rider Julie Brougham took a huge step towards Rio on Friday 4 March 2016 after victory in the CDI Grand Prix and notching what is believed to be a New Zealand record at the 2016 CDI Hastings Horse of the Year show.
The Manawatu mum and her showy German import Vom Feinsten performed to a captivated crowd, scoring 70.745% and bagging the last of five marks required making them eligible for selection for the Rio Olympics.
Later this month she and Vom Feinsten fly to Europe where they will base with Ton de Ridder in Aachen, Germany, and continue their campaign to secure the single spot available for New Zealand at Rio.
"I am just thrilled," said Brougham. "Getting that last mark takes the pressure off us. That was his best grand prix and I am so pleased New Zealanders got to see the kind of work he has been doing in Australia this season. Today I just had to think passage and he did it – he felt confident and comfortable. It was very fluent and harmonious with plenty of energy."
The combination are defending their Dressage Horse of the Year crown and will compete in the CDI FEI Grand Prix Special tomorrow, followed by the Freestyle to Music on Sunday. "I am looking forward to the special tomorrow," she said. "It is a test that usually suits him."
Her biggest competition for the overall title and the berth to Rio comes from John Thompson (Hamilton) and JHT Antonello who finished second to them today, with 69.766%.
Vanessa Way (Taranaki) had a brilliant day winning the Level 2 Horse of the Year aboard NSC Pronto, Level 3 Horse of the Year on NRM Andreas and Level 4 Horse of the Year on NRM KH Arion.
All three horses also hold the North Island and National Championship titles. "This is my magic year," said Way.
Related Links
Scores 2016 CDI Hastings
Julie Brougham and Vom Feinsten Win 2015 Horse of the Year Crown at CDI Hastings
Six New Zealand Riders Already Qualified for 2017 Pacific League World Cup Finals