Eurodressage Market - Products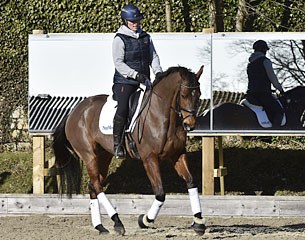 At Mirrors for Training we are passionate about giving our customers the most exciting experience possible – to all disciplines whether their enjoyment comes from dressage, show jumping, eventing, carriage driving, racing or simply riding for pleasure. Take advantage of our special March 2016 Offer and save £100 on each mirror!
SPECIAL OFFER:
4no ARENA MIRRORS for £1080.00 + VAT delivered UK  (saving you £100 on each mirror if you order in MARCH)
Supply and installed outdoor arena 4no Mirrors £2500 + VAT
There is 3 monthly installments available on all mirror installs.
Using mirrors when you ride is common sense…if you want to see how you look when you're at home, you have a look in the mirror. If you want to check your position, assess your horse's way of going or improve straightness or movement, then checking in a mirror works in exactly the same way! Using mirrors provides instant visual feedback, allowing corrections to be made at the time, enabling you to improve and get the most from each training session, whatever level you ride at.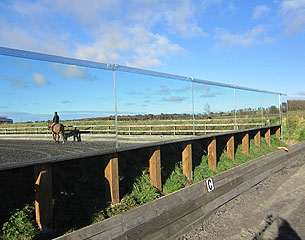 With Mirrors for Training, the options are endless. Our arena mirrors are uniquely engineered and framed in galvanised steel, each 8ft x 4ft  reflects a generous view of your arena and a super clarity  reflection that cannot be matched by any other supplier as our system is unique to us. We offer a 2 year guarantee on our system no other supply can match when we install them.
 
Our system is strong, durable and offers a stylish addition to any arena and can be adapted to both outdoor and indoor, Vertical and Horizontal installation configurations.  Following the installation of the mirrors your schooling will be twice as effective as you will be able to assess straightness outline and quality of movement visually. Whether you have one mirror or invest in a whole wall, the team can advise on the best positioning to ensure you get the very best out your investment.
 
The instantaneous feedback you get from seeing your horses outline and your seat and application of the aids is like having a trainer watching your every move, without the hourly rate!
FACT: Approximately 65 percent of the population are visual learners.
FACT: 90 percent of information that comes to the brain is visual.
FACT: Visual aids installed in the training arena improve learning by up to 400 percent.
The visual benefits of using mirrors for training are limitless, identifying in real time inaccuracies in your performance and being able to make changes immediately before they become habit forming is priceless for both horse and rider.
The ultimate training aid for perfecting dressage, posture and performance
Boost confidence in the arena – the rider can sees what the judge/trainer can see
Score higher points for accuracy – your marks will improve as you can learn from your mistakes
Correct your positioning real time; eliminates video playbacks.
In addition to dressage, we supply mirrors to event riders, show jumping, racehorse training, carriage driving, show ponies, reining, saddle fitting, stud yards and vets
Incorporates a special safety film and 15mm cushioned foam for added impact protection
Excellent resistance to natural atmospheric corrosion
Easy to handle and install
Manufactured to European standard EN 1036
Achieves impact performance EN 12600 2(B)2
Vertical or horizontal mounting options
Suitable for indoor and outdoor Arenas
Robust steel frame construction
A much superior product than any wooden backed or buffalo backed mirror – that fail within 12months
Supplied with Installation brackets that simplify your installation
2 years warranty 
Testimonials:
Mary King - I am perfecting my dressage with Mirrors for Training's Arena Mirrors, I have found them to be an absolute asset.  The visual feedback I get from the mirrors enable me to enhance my performance, it's amazing the difference they make, I can see straight away what areas I need to focus my training lessons on.  This is simply invaluable product, and one I simply could not be without.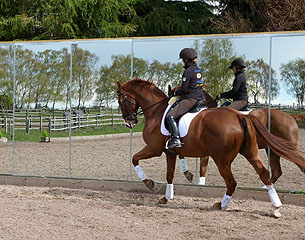 Harry Meade - "I'm thrilled with my mirrors from Mirrors for Training. Through making me more aware of my own position, horses' outlines and the accuracy of movements Mirrors for Training have definitely helped me raise my game. Having experienced their benefits I wouldn't want to live without such a key training aide."
 
Pippa and William Funnel - The mirrors have become an integral part of our training regime, enabling us to continually check on the straightness of ourselves and our horses and to check on our positions and the horse's outline. They are an enormous benefit to the whole of The Billy Stud Team.
Sophie Wells - love my new mirrors for training mirrors! They are the best training aid next to having your trainer everyday! The visual feedback you get really helps in my training. Definitely a tool I couldn't be without in the biggest year of my life so far, campaigning for London2012!
For more information visit www.mirrorsfortraining.co.uk or contact Mirrors for Training via info@mirrorsfortraining.co.uk or by calling +44 (0) 1902 791207
Related Links
Mirrors for Training: Arena Mirrors as The Ultimate Training Aid
Mirrors for Training Expands into Europe