2015 FEI World Dressage Challenge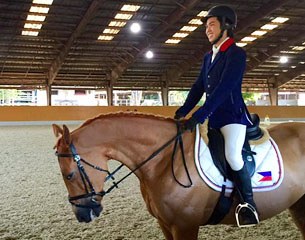 The Philippines have won the Zone 9 2015 FEI World Dressage Challenge as the final result have arrived. Five countries participated in the zone 9 challenge: New Zealand, Philippines, Taipei, China, and Hong Kong. French judge Alain Francqueville and Swedish judge Bo Ehman travelled to these five countries to assess the classes.
The FEI World Challenge is a global event that includes more than 50 countries divided into nine zones. Two judges are chosen for each zone and they travel to the events where competitors ride the same tests. When the judges conclude their trip through one zone, the results are added together which determine the winner for each class, as well as a team result.
The FEI World Challenge goes from preliminary level classes up to Prix St Georges. The Zone 9 winner at Prix St Georges level this year was Chinese Gu Bing on her 14-year old German bred chestnut Yumianfeilong. The pair scored 768.947% and edged out Taipei's Neil Lin  on the 13-year old Oldenburg bred Lucky Lordi (by Lord Sinclair x Uniform) with 66.382%. Taipei's Alex Chen ranked third on with 64.737%.
For the New Zealand riders the blustery weather  made  for difficult riding conditions  and unsettled horses, but the judges review at the conclusion of the competition revealed a number of other factors which resulted in lower than usual marks across all levels. The judges noted many horses lacked a steady forward contact  and suppleness  A lack of balance from many horses, lack of impulsion, crookedness and incorrect position and inaccurate test riding saw the average marks lower than previous years. Another factor which appeared to influence the performances  was the requirement for sitting trot at all levels.
2015 is the final year of the World Dressage Challenge as we have known it for 35 years,  but 2016 will bring a new concept which will see the introduction of the Intermediate I test, but will but will not include Preliminary Children or Adults or Elementary Adults.
Complete results of the 2015 FEI World Challenge  - Zone 9
Related Links
China Leads 2014 FEI World Dressage Challenge in Zone 9
New Zealand Riders Selected for 2014 FEI World Dressage Challenge Zone 9
First FEI World Dressage Challenge in Indonesia
Andrea Bank Rules Prix St Georges at New Zealand Leg 2012 FEI World Dressage Challenge
Chilean Virginia Yarur and Team South Africa win 2012 Zone 1 FEI World Dressage Challenge