American Dressage News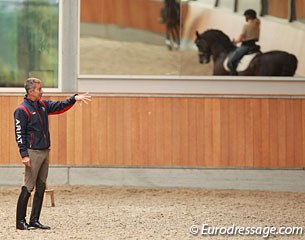 Eighteen American young Riders from across the nation have been invited to attend the 2016 HorseMastership week coming up in Wellington, Florida, on 5 - 9 January 2016.
Trainers such as Robert Dover, Steffen Peters, Charlotte Bredahl-Baker and George Williams, as well as riders such as Laura Graves will share their expertise alongside specialists including U.S. team vet Dr. Rick Mitchell, US judge Janet Foy, and sport psychologist Laura King amongst others.
"This will be by far the most exciting clinic to date," said organizer Robert Dover after seeing the line-up for the clinic with some of the world's top trainers, riders and specialists in its entirety. Steffen Peters added that "our Juniors and Young riders need to be our future investment."
Eighteen riders are invited to attend the clinic as well as 6 invited auditors. Participants and auditors are chosen based on competitive success as well as attendance at other Emerging Dressage Athlete clinics and programs. Participants this year include riders: Alexander Dawson (WI), Mikayla Frederick (IA), Kristin Counterman (VA), Tillie Jones (NE), Allison Nemeth (NJ), Bebe Davis (FL), Natalie Pai (VA), Kerrigan Gluch (MI), Allie Hopkins (TX), Asia Rupert (CT), Claire McNulty (MI), Lilly Simons (NY), Cassidy Gallman (CA), Molly Paris (NC), Anna Weniger (NC), Nicholas Hansen (PA), Allie Cyprus (TX), and Lindsay Holleger (GA); and auditors: Julia Barton (KS), Jessica Fan (TX), Chloe Hatch (FL), Bug Karls (CO), Jordan Lockwood (TN) and Kylie McKereghan (OR).
The format for the clinic this year will be that each rider will have the opportunity to ride with one trainer on the first two days of the clinic, then everyone will have the third day off, then ride with a second trainer the last two days of the clinic. The lessons will be in the mornings each day of the clinic, and the afternoon sessions as well as the day off will be filled with an equally star-studded line-up of presenters. One afternoon, the group will get a tour of Oded Shimoni's Wellington based barn and be able to watch some of the daily training that goes on at that facility.
"These kids have worked hard to be eligible for this program. They deserve to be exposed to the best of the best," states Dressage 4 Kids founder Lendon Gray about the presenters for this year's clinic.
Photo © Astrid Appels
Related Links
2015 Robert Dover HorseMastership Week Scheduled For 3 - 7 January 2015
Riders Chosen for Third Annual Dressage Horsemastership Week Led by Robert Dover
Riders Chosen for 2012 Robert Dover Horsemastership Clinic