American Dressage News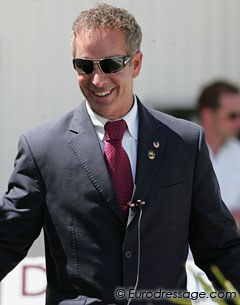 The second annual Robert Dover Horsemastership Clinic will be held at The Stadium at Palm Beach International Equestrian Center on January 1-6, 2013. The clinic will consist of training with world-renowned dressage riders as well as lectures from the industry's best horsemen and women.
The riding clinic will take place at the Van Kampen Arena at the Stadium and coincides with the George H. Morris Horsemastership Training Session for hunter/jumper riders on the Winter Equestrian Festival show grounds.
Twelve riders and 10 official auditors will participate in the clinic and will have the chance to work with amazing dressage riders, trainers, and judges such as: Six-time Olympian Robert Dover, 2012 U.S. Olympians Jan Ebeling and Tina Konyot, U.S. Olympians Lendon Gray and Courtney Dye, international riders Katherine Bateson-Chandler, Tuny Page and Michael Barisone, and international judges Gary Rockwell and Anne Gribbons.
Riders for the dressage event were chosen from Lendon's Dressage4Kids Emerging Dressage Athlete clinics around the country as well as from the North American Junior Young Rider Championships, U.S. Equestrian Federation Festival of Champions and Dressage Seat Medal Finals.
Riders in the clinic are: Anna Campbell and Cassie Schmidt of Texas, Jackie Cartesio of New York, Nicole Chiapetti and Rosie Julian Simoes of Illinois, Rebecca Cohen of Florida, Katie Foster of Wisconsin, Brandi Roenick of Arizona, Lilly Simons of Connecticut, Ayden Uhlir of Washington, Genay Vaughn of California and Mattie Zepernick of Louisiana. Official auditors are: Giulia Cohen and Tasha Mitchell of New York, Hope Cooper and Emily Smith of Massachusetts, Kristen and Nicole Nowak of Rhode Island, and Abby Flieschli, Amanda Hester, Megan Tritch, and Sarah Witney of Texas.
Each day will start with a workout with trainer Bob Gutowitz and include riding and lectures from international veterinarians, sports psychologists, farriers and others. Lectures will be at Tuny Page's Stillpoint Farm in Wellington and will be given by Mary Phelps, Dr. Deb Bennett, Ph.D, Farrier Dean Pearson, Dr. Rick Mitchell, and Dr. Jenny Susser.
Dressage4Kids sponsors much of the RDHW to keep costs for participants to a minimum. Sponsors for the week are always needed. Dressage4Kids, Inc. is a non-profit  organization that provides educational and competitive opportunities for youth riders in order to encourage those same riders to become true horsemen, develop good sportsmanship skills and to have fun. It also supports programs for adults who support and educate youth.
Photo © Astrid Appels
Related Links
U.S. Emerging Dressage Athlete Program Plans Final 2012 Clinic
Mary Phelps: How to Handle the Media and Lay Down the Foundation of The Right Impression