2015 CDI Darmstadt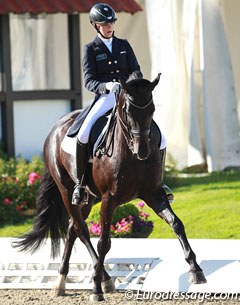 It was a case of German Youth domination at the 2015 CDI Darmstadt held at the Kranichsteiner Hof equestrian centre on 19 - 23 August 2015 with junior rider Rebecca Horstmann and young rider Joline Thüning both scoring hattricks. The 15-year old Horstmann  and her 7-year old gelding Friend of Mine took out all three junior tests with 73.063%, 71.228%, and 73.375%, and the 19-year old Joline Thüning scored a clean sweep with 71.053%, 73.289%, and 74.625% on her 13-year old Don Dayly.
"Darmstadt was a really great competition with great organisation and perfect conditions. Even the weather gods helped to make this event successful." says Rebecca. "Friend of mine did a perfect job. He was concentrated all the time and gave his best each day. Even if he isn't an old horse, he is like a professional show star. Of course it can always be better so we keep on training, and right now we'll focus a bit on improving the freestyle test."

A high school student in Ganderkesee, Rebecca rides at her parents' small home breeding and training stable. Her mount Friend of Mine (by for Compliment x Riverside)  is home bred and Rebecca fell in love with him even as a foal. Rebecca began her dressage career in ponies and rode in all three Olympic disciplines before setting her mind on dressage.

"I got my first pony Niklas when I was just 6 months old. When I turned  8 there was Nero, who I competed in dressage, jumping and eventing," Horstmann explained.  "In jumping I got to 1.25m with my 9-year old mare by Chacco Blue x Classics. I am also training the highly talented 5-year-old Young Hope (by Fidertanz x De Niro) , who is already a proven a talented dressage competition horse."
Coached by her parents, Rebecca also gets regular help from the German youth national coach Oliver Oelrich, who Rebecca says really cares about his riders. "Training with my parents isn't something special because they have trained me from the very beginning," she added.

As all of Rebecca's horses are home bred, which gives extra insight into the way to train each of them.
"My sporting goal is to get a starting place at the European Championships next yea, and a highlight of my year this year was winning the Nations Cup as part of the German team at the CDIO Hagen.  For my future, I  hope to be able to train young talented horses and to continue to have success in competition," said Horstmann.  "Whether riding will become my profession, I cannot say just yet, as first I have three years of school and then college in front of me."

Happy that the sun was shining during the entire competition, Young Rider winner Joline Thuning had a good feeling throughout the weekend and says her horse Don Dayly (by Depardieu x Don Primero) did his best.

"Actually we saw the event as a  training competition for the German Championships next month, so it made me really happy that it worked out so well," said Joline.  "At the moment I am still working on the Young Rider level, and next year I hope to get better and more secure in different parts of the test."

Trained by the German Youth National Coach Oliver Oelrich, Joline hasn't really thought about her goal for next year, but says that of course like most riders, she wants to ride at the Europeans.
"I have been training with Oliver since 2011 and he is a very good trainer. I am very thankful that I've already learned so much with him. I hope that I will learn more from him in the future," Thuning explained. "Next year is my last Young Riders year and I will then move up to the Under 25 competitions.  We will take it step by step and first concentrate on the next year. Then I will think about the Under 25 level and train for it."
Studying law in Münster, Joline does not know if riding will become her future profession. "I'm young and anything is possible," she added.
Photo © Astrid Appels
Related Links
Scores: 2015 CDI Darmstadt
Tovek and Thuning Take Centre Stage in Young Riders Division at 2015 CDI Stadl Paura
Short Listed German Riders for 2015 European Junior/Young Riders Championships