2015 CDIO-PJYR Hagen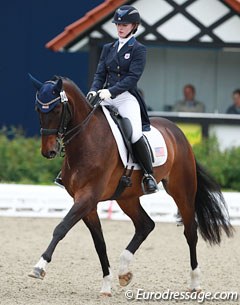 Thrilled to take off to Europe for the summer on a special USEF training grant, American Young Riders Ayden Uhlir and Catherine Chamberlain made their European debut at the 2015 CDIO-PJYR Hagen "Fute Champions" competition on 18 - 21 June 2015. They were excited by their results and by the fantastic opportunity and experience of training in Europe.
Sixth in the Young Riders CDIO Team Championship Test, Catherine and Kim Pribble's 10-year old Dutch Warmblood gelding Avesto van Weltevreden (by Gribaldi x Krack C) scored 68.596%. They dropped to 19th in the Individual with 65.789% and finished in 6th place in the consolation kur with 66.042%.
"My European experience has been just great," said Catherine. "It was a quick trip, I arrived in Germany on 5 June and my horse and I flew back to the U.S. on Tuesday 23 June."
Training at Johann Hinnemann's barn before competing at Hagen, Catherine was also able to work a bit the German yard while she was there, which she found to be a really great experience.
"I loved seeing how such a big training operation works and what the weekly schedule is like at one of the top barns in Germany.  My trainers Kathleen Raine and David Wightman also work with Hinnemann so it was still very much along the lines of what I work on at home. Kathleen was in Germany at the same time as I was. She was preparing to compete in the Grand Prix with her mare Breanna so I was able to get help from her while I was there also."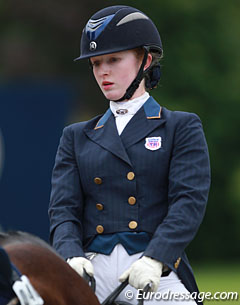 David came over later to watch his student during the week in Hagen. Catherine says it was great to have that coaching and support for her first European debut. The atmosphere in Hagen was competitive and impressive, while still remaining friendly and inviting.
"It was a thrilling experience competing on European soil for the first time. It can definitely be intimidating seeing the level of competition, but once I got my feet wet on the first day I realised that it's just another competition ring and the goal is the same, to produce the best test possible on that day.  The horse I am competing on at the moment is still green at the Prix St Georges, only having started showing in CDI's this February, so we had a few mistakes but overall I was very happy with the presentation."
Chamberlain describes Avesto as a very curious personality, always wanting to know what's going on.
"He used to get quite nervous about new things but now, after all of these great experiences, I can see him starting to become more comfortable and confident in himself and his environment," she said.
Catherine added that competing and training in Germany is  different from the U.S. because it is such a big part of the culture and history there.
"The sport is just more established in Europe than it is in the U.S, but it was nice to see that at the end of the day, it's still just training and competing," she explained. "Yes, the quality of the horses and riders is very impressive, but I felt comfortable competing in the same ring as them and inspired by them to keep improving. I am very much looking forward to being able to return to Europe for more training and competitions in the future!"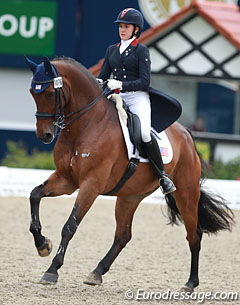 Ayden Uhlir, who spent the winter in Florida riding at Hampton Green Farm and competing at the Global Dressage Festival, took her 16-year Dutch warmblood Sjapoer (by Contango) to Europe for the first time. The pair was 19th in the Team test (64.693%) and lifted to 12th place in the Individual with 67.456% to finish the Kur in 7th place on 70.250%.
"I have had such an amazing time in Europe this summer," Ayden told Eurodressage. "I arrived in mid-May and had several weeks of boarding at Gut Hohenkamp in Dorsten, Germany, before the CDIOY in Hagen.  I have been training here with one of the USEF National Youth Coaches, George Williams.   At home I live in Southern California and train with the USEF Developing Young Horse Coach Christine Traurig.  I have been to clinics with George before and it didn't take long for him and I to click here in Germany."
Ayden's horse Sjapoer, is "an old guy", but she says he doesn't realise it.
"He was bred in The Netherlands by Anna Marie von Essen and he has loved being back home and got really frisky here in the cooler air. Sjapoer has an amazingly sensitive personality and a huge spirit.  He and I have had four years together and we have become really connected," she said.
Loving every minute of her time in Germany Ayden admits that from the minute she arrived it felt like coming home.
"I went to a tack store and thought I had died and gone to heaven; Bell boots for 14 Euros! You don't realise how cool that is, I am in love. I do miss some things from home though.  I had a huge awakening to the conveniences in the USA when I wanted to eat the first Sunday I was here and everything was closed.  I also miss my grandmother a lot.  I moved away from home to train when I was 16 and my grandmother travels with me.  Like most grandmothers she likes to fuss and I miss her not being here," she confessed.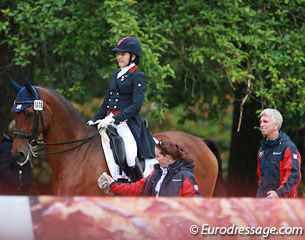 Ayden is also very grateful to the USEF and the supporting organisations like the Dressage Foundation and Dressage 4 Kids, who she believes  are headed in a great direction for positive change in the future of US dressage. 
"I feel that I am a direct product of those changes in the last half decade. Time, money and structural changes are being made and these have made my arrival and success in Europe possible," she said. "Programs like the Robert Dover Horsemastership week, which I attended all four years, was a key in guiding me.  The Dressage 4 Kids foundation that was established and run by Olympian Lendon Gray has been, for me, the biggest game changer.  D4K is working to develop great breadth and depth in US dressage through a changing national drive for recruitment, funding and awareness.   I think that Catherine Chamberlain, Genay Vaughn, Chase Hichock and I have been only the first taste of a growing trend in American youth dressage, one which I hope will be recognised at home and continue to grow."
by Sarah Warne - Photos © Astrid Appels
Related Links
Scores: 2015 CDIO-PJYR Hagen
Photo Report: German Pony Kids Win Big at the 2015 CDIO-PJYR Hagen
German Youth Riders Wield the Axe of Power at 2015 CDIO-PJYR Hagen
Burschik and Powerfee GB Win CDI Junior Division at 2015 CDIO-PJYR Hagen