Young Guns in Dressage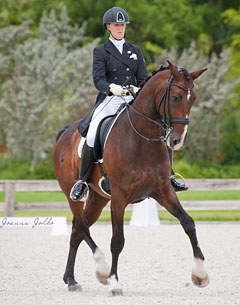 After an action and fun filled winter show season in Florida, Canadian Grand Prix rider Alexandra Duncan has decided to stay in the U.S.A  to develop her business with Loxahatchee, Florida, as new home base. Duncan and her number one horse Vitall are Canada's rising Grand Prix stars, winning the Under 25 division in Wellington with 70% marks.
Duncan dreamt of representing Canada at the 2014 World Equestrian Games but was also realistic about her chances for a team spot and the Games in Normandy just came to early in her budding Grand Prix career. 
The 24-year old Duncan and her 12-year old Dutch warmblood Vitall (by Ferro x Aram) spent four years in Europe training with some of the continent's best coaches, Jan Brink, Anky van Grunsven and Bert Rutten. Unfortunately Vitall's launch at Grand Prix was interrupted by a period of injury, but the bay gelding returned to full health and Florida was the ideal platform for the duo to get their feet wet at the highest level of dressage. Florida turned out to be such an exciting experience, that Alexandra changed her plans to return to Europe. Instead she will stay in North America.
"I decided to stay and focus on training, do national shows and gain miles in the ring with Vitall to prepare for next season with the 2015 World Cup Finals in Las Vegas in mind," Duncan told Eurodressage. " The 2014 World Equestrian Games just came up to soon with this being Vitall's first real season competing after his injury.  He just felt too green to push him for WEG."
Uprooted from her home in Vancouver, BC, Alexandra moved to Europe in 2009 to soak up the European dressage culture and establish herself as a young professional. Her plans have not changed but the location has.
"It was big move from Europe and I just started to feel settled here in Wellington in order to move again with five horses and two dogs," Alex explained. "It just didn't feel it was the right thing to do. I am really happy with where I am in Wellington and so are the horses and dogs. I am planning to base myself in Wellington year round."
Alex is proud that she was granted the P1 Athletes Visa to stay in the United States. "It was very difficult to get so I am really excited they granted me five years,' she added.
Duncan is located at Janice Laporte's farm in Loxahatchee, FL, a stone's throw from Wellington. She has revamped the stable into a small, intimate, yet totally professional dressage yard. Wellington offers a plethora of opportunities not only on a professional level, but also socially for a young professional building her business network.
"The Florida season was great. I really enjoyed re-connecting with friends and meeting new people," she said. "The main focus for me competition-wise was to get back into the ring after being out for so long and Wellington is the best place to do that.  I focused on the under 25 GP for the CDI's later in the season I moved him up to senior Grand Prix at the national shows."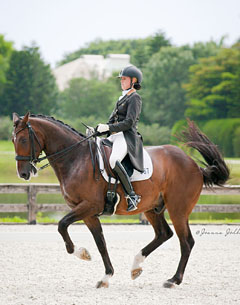 While Duncan's short term goal are the 2015 World Cup Finals in Las Vegas, at the same time she is working hard at developing her own business, coaching a limited number of students and selling young talented horses, which she hand-picked in Europe, trained and has for sale at affordable prices in Florida.
"I'm nicely tucked away on my farm and I have my barn almost full for the season, but there are a few spaces left for horses in training or students. I can offer boarding and training for the 2014-2015 Wellington season and have six stalls available for either full board or as dry stall. I also have a few lovely, imported young horses for sale from Europe."
Duncan is taking Vitall and her young armada out to show this summer at the national competitions in Florida in preparation of the Regional Championships held at the Global Dressage Festival showgrounds in Wellington in September.   She has a secret iron in the fire, the 7-year old Dutch bred Sterling Cooper (by Prestige VDL) with which she aims to qualify for the 2015 Pan American Games to be held in her home country Canada.
"Next winter I want to go full blast and compete in Wellington, qualifying Vitall for the World Cup and Cooper for the Pan Ams. My two young mares I want to show in the FEI 5-year classes.  I am looking forward to the Regional Championships and the 2015 Global Dressage Festival. I think it's going to be an exciting time and I can't wait to get my horses in the ring."
Photos ©  Joanna Jodko
Related Links
Alexandra Duncan Ready for the Big Time After U25 Victory at 2014 CDI Wellington
Alexandra Duncan Finding Her Stride in Sweden
Duncan Couldn't Have Asked For Anything More at 2006 Young Rider World Cup