2014 CDI Wellington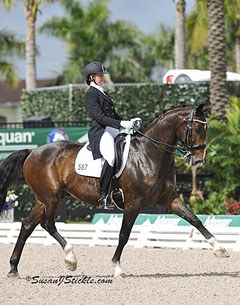 Canadian Grand Prix rider Alexandra Duncan has proven to be ready for the big time after booking a thrilling victory with an even more exciting score in the Under 25 Grand Prix at the Global Dressage Festival CDI in Wellington, Florida, on Saturday 8 February 2014. Aboard her Dutch warmblood gelding Vitall, Duncan posted a winning score of 70.426%.
"He was awesome this weekend. I'm so happy," said an ecstatic Duncan. "Vitall felt extremely rideable. At this show we both found our groove. I was able to keep the relaxation and flow of energy from the warm up into the show ring. He really stayed with me and we really were one in the ring."
She continued, "the week before Dressage Canada had their riders work with a mental coach and I worked with him how to keep the relaxation from the warm up into the show ring. We came up with a few little things for me to do and it worked!  It was thrilling to achieve such a great score  and there's is still room for improvement.  "
The 24-year old Duncan is Canada's most successful young rider to date. After winning team gold at the 2006 North American Young Riders Championships, she became the best performing North American Young Rider ever at the Young Rider World Cup Finals. Aboard Elektra she finished fourth at the 2006 CDI-W Frankfurt. To finish up her Young Rider's career she won team and Kur gold and individual silver at the 2007 North American Young Riders Championships.
Destined for a career in horses, Duncan made the smart choice of packing her bags and moving to Europe to learn dressage from the greatest trainers on the continent. In 2009 she moved to Sweden and stayed with Jan Brink for a year. In 2010 she relocated to The Netherlands and worked at Anky van Grunsven's yard before setting up her independent business in Holland training with Bert Rutten.
In December 2013 Alexandra was ready for the next level. She moved her horses to Wellington, Florida, for the Global Dressage Festival. With the 2014 World Equestrian Games in Caen, France, set as her goal Alex aims to ride herself into the spotlight of the Canadian WEG Team selectors. Her 12-year old Vitall (by Ferro x Aram) has come of age and is now ready for the big time. Alex bought the horse in Germany as a 5-year old and trained him up the levels herself.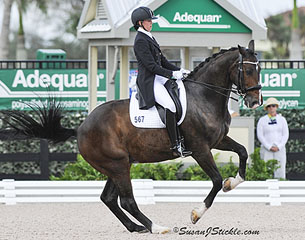 "The training in Europe has been invaluable," Duncan explained. "I have been lucky to have had a mental coach for the last three years. Mental coaching has made the biggest impact to my confidence and ability to focus, using breathing techniques that I use with my horses with incredible success."
Florida was the next logical step in her career as Wellington provides access to non-stop top level competitions during the winter. The location also provides a closer connection to her Canadian team mates who all relocate en masse to Florida for the CDI show circuit. As Canadian judges, officials and selectors commute to the sunny state on a regular basis, Florida is the ideal stepping stone as it gives competitive riders the proper exposure. The sunny destination also has an added advantage because it slightly closer to Alex' home and family in West Vancouver, Canada.
"Life in Florida is fantastic. I couldn't ask to be in a better place. It's horse heaven," Alexandra stated. "I have met some fantastic people and there never is a dull moment here. There is always something to do. I love the fact we don't have to travel far to the show grounds. We have access to amazing judges and great competition grounds in a short distance which makes life easier for the horses and riders."
Based in Loxahatchee right in between White Fences and the Equestrian Show Grounds, Alexandra brought six horses to Florida, including two wonderful sales horses: a 5-year old bay gelding by Lauries Crusador xx and a 6-year old Dutch warmblood gelding by Jazz. "Both horses are dream horses for any adult amateur or junior/young rider. They have fantastic minds, no vices, and three great paces," said Duncan.
In Florida Alexandra has started working with German trainer Christoph Koschel, who is in Wellington for the season. "He is an amazing trainer and I am really enjoying working with him," she said. Alex' next show with Vitall is planned for the end of February, followed by one in the middle of March. She will also take the two sales horses out and compete with them in the young horse classes. Enjoying Florida so much, Alex has not yet set a date for going back to Europe.
Photos © Sue Stickle
Related Links
Scores 2014 CDI Wellington
Alexandra Duncan Finding Her Stride in Sweden
Duncan Couldn't Have Asked For Anything More at 2006 Young Rider World Cup
Alexandra Duncan to Represent Canada at the 2006 FEI Young Rider World Cup Final