2014 North American Junior/Young Riders Championships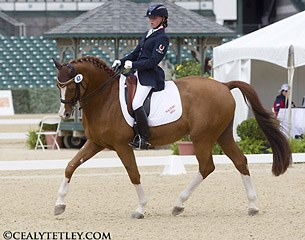 On Saturday 19 July 2014, dressage riders competed for their Freestyle Individual medals in the Rolex Stadium at the 2014 North American Junior & Young Rider Championships. Catherine Chamberlain (Region 7) and Verdicci won their second Individual Gold medal of the week in the Young Rider division. Camille Bergeron (Canada/Qubec/Alberta) and Lowelas also won another Gold medal in the Junior division.
Chamberlain Wins Gold Medal Number Two
The top 15 Young Rider Individuals advanced to the Freestyle Championship today and were judged by Cesar Lepardo Grana (ARG) at E, Adriaan Hamoen (NED) at H, Christof Umbach (LUX) at C, Gabriel Armando (ARG) at M, and Sandy Hotz (USA) at B.
The highest score of the day in the Young Rider division went to Catherine Chamberlain of Region 7 (19, Murietta, Calif.) and Verdicci with 72.525%. A self-proclaimed nerd, Chamberlain was thrilled to ride to music from the Harry Potter soundtrack. She and Verdicci performed some difficult sequences of movements, including the extended trot on two diagonals and flying changes on a serpentine to the counter lead.
"It was the first time performing this freestyle and it was really fun," Chamberlain said. "I tried to make it difficult. In past I have had more simple freestyles and I wanted to show off a more difficult freestyle."
Even though they had a challenging freestyle routine, Chamberlain and Verdicci had a stellar performance. "It was a thrilling solid ride for me," she said with a smile. "My horse was able to stick there with me and perform the best he could."
Devon Wycoff of Region 5 (20, Boulder, Colo.) and Power Play earned the Silver medal with a score of 70.975%. She got her freestyle off to a strong start with lovely canter work and never looked back. She used music by Lindsey Stirling, a hip-hop violinist, that she enjoyed riding to and worked with her horse. After not having the best ride for her Individual Test, Wycoff was hoping to ride better in her Freestyle, and she did just that.
"My main goal was to keep my brain between my ears. I don't know where I was when I was riding the Individual Test but it wasn't on my horse," Wycoff explained. "I needed to stay there and ride every movement. Thank God I stayed there, I stayed there. I didn't care what the result was. This was just icing on the cake. I accomplished my goal when I walked out of the arena."
The Bronze medal went to Laurence Blais Tetreault of Canada/Quebec (17, Montreal, Quebec, Canada) and Michealango after they scored 70.625%. She rode to catchy music that she inherited from her sister, Mathilde. Like Wycoff, Blais Tetreault wasn't thrilled with her rides earlier in the week but that was not the case with her Freestyle ride.
"I am extremely happy with how today went," Blais Tetreault stated. "We had a rough start. My horse was nervous in Team Test and Individual. To finish with this nice ride, I'm very happy. He did everything I asked."
Bergeron Scores Second Junior Gold Medal in Freestyle
Camille Bergeron (14, Mascouche, Quebec, Canada) and Lowelas had another winning performance at NAJYRC, this time in the Junior Freestyle Championship. The pair's performance garnered a score of 71.275% and the Gold medal. Bergeron and Lowelas rode to upbeat music, helping to highlight the power in Lowelas' gaits.
"I was wanting powerful music so that people wouldn't just think 'oh, he's cute.' I wanted people to go 'Wow,' so I chose this music," Bergeron explained.
Bergeron said she had an excellent warm-up with Lowelas, with him being calm and attentive.
"When I came in the ring I was really confident and it was amazing," Bergeon shared. "I do my best to be the most precise I can be."
The judges for the Junior class were Cesar Torrente (COL) at E, Lorraine MacDonald (CAN) at H, Lilo Fore (USA) at C, Mercedes Campdera (MEX) at M, and Marian Cunningham (PER) at B.
Cassie Schmidt (17, Aledo, Texas) rode Velasquer to the Silver medal after earning a score of X. The pair's freestyle mainly used music containing pianos, including piano version's Taylor Swift's Love Song, Bach's The Cello Song done by The Piano Guys and a song from the Twilight movie soundtrack. After Velasquer making it clear in a clinic with Karen Robinson that he did not enjoy powerful music, Schmidt realized he enjoyed piano music.
"Eventually [Robinson] tried the piano music and he just took a deep breath and felt so good," Schmidt said with a smile. "Everything just felt perfect about it."
Despite being excited by the nearby cross country action in the warm-up, Velasquer listened to Schmidt and laid done a great test.
"He just felt so with me. Everything just fell into place today," Schmidt explained, coming back from some minor mistakes earlier in the week.
Molly Paris (18, Charlotte, N.C.) and Diamante Sky executed a strong freestyle to music from the Harry Potter soundtrack, put together by Marlene Whitaker, to claim the Bronze medal. The music fit Diamante Sky well and emphasized his elegance
"We tried not to make it too powerful since he's a powerful horse but also kind of elegant," Paris commented. "So we just tried to get something that matched his personality."
Diamante Sky was also a bit unsettled in warm-up with the eventing horses galloping nearby, but was all business in the arena.
"He gave me all he had and that's all I can ask for," Paris said.
Related Links
Scores 2014 North American Junior/Young Riders Championships
Chamberlain and Bergeron Win Individual Gold at 2014 North American Junior/Young Riders Championships
Region 7 and 1 Win Team Gold at the 2014 North American Junior/Young Riders Championships