Canadian Dressage News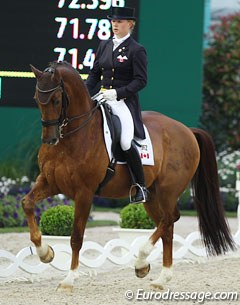 Pia Fortmuller's Grand Prix horse and 2008 Canadian Olympic team horse Orion has passed away on 19 January 2014. The rising 18-year old Dutch warmblood did not survive colic surgery.
The KWPN bred Orion started showing symptoms of colic on Saturday 18 January and was immediately transported to the clinic where they were able to stabilize him with medication. However, during the night the gelding suffered from another colic eposive and by Sunday morning it was decided to operate on him.
"Before the surgery began I asked for one last moment with Orion and when I looked him in the eye, Orion let me know that his time had come," said a bereaved Fortmuller. "Anyone who spends so much time with their four legged partner knows that over time a connection can develop so strong that words are not needed to communicate. And it was in this moment that I knew that I had to let my team mate, my anchor, go. As I closed my eyes and gave Orion one last kiss I had only one thought that I wanted to share with him, and that is "Thank You". Thank You Orion, for beginning the best teammate anyone could ask for, thank you, for opening up a world of possibilities for me and most of all thank you for showing me that dreams really can come true."
During surgery the veterinarians discovered that the colic was caused by a tumor the size of two fists, which had cut off the circulation of the horse's intestines. "Orion was past the point of saving," Fortmuller explained. "In less than 24 hours my Orion, who is famous for his zest and fight for life took his last breathe and has moved on to greener pastures, but his spirt will live on forever in my heart."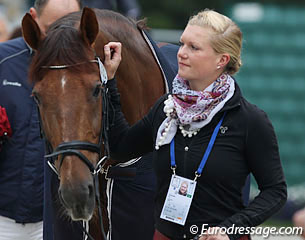 Pia Fortmuller's Orion was bred A.Reijneveld in The Netherlands and born in 1996. He was by Jazz out of Havanna (by Consul). Orion made his break through at international Grand Prix level in 2008. At the time he was owned by Patricia Hatch and competed by Canadian GP rider Leslie Reid, who qualified him for the 2008 Olympic Games in Hong Kong.
After the Games, Orion was shipped to Steffen Peters' yard in San Diego, CA, to be sold. Peters briefly competed the gelding at California based CDI's in 2009. Orion was not sold and moved to Leonie Bramall in Germany, where Fortmuller was training at the time upon recommendation of her Canadian trainer Leslie Reid. Fortmuller and Orion connected at Bramall's barn and Pia acquired the gelding. In March 2010 the pair moved to Heike Kemmer and stayed there for four years. The duo became the reserve pair on the Canadian team at the 2012 Olympic Games in London.
"Every time I look up at the stars at night my eyes immediately search for the star constellation "Orion' which is distinguished by "Orion's Belt" and I know that when I look up there I will find my very own warrior who will forever rest in peace amongst the stars," Fortmuller said as a closing thought on losing her number one Grand Prix horse.
Photos © Astrid Appels
Related Links
Pia Fortmuller Reserving Herself a Spot for the Future
Jebsen Receives 2013 World Cup Finals' Wild Card, Fortmuller By-Passed
Fortmuller Named Dressage Canada Athlete of the Month April 2011
Pia Fortmuller, 2006 North American Young Riders Champion
Jazzing into Dressage History: Jazz Offspring Bred for the Elite