German Dressage News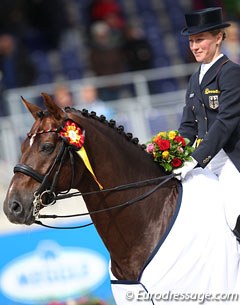 The German Equestrian Federation (FN) and the CHIO Aachen have extended the O-Contract until the year 2025.  The traditional showground at the Aachener Soers thus remains to be the German event location for Nations' Cups in five disciplines.
"I am delighted that we are going to continue our long-standing fruitful cooperations," commented FN President, Breido Graf zu Rantzau, during this year's CHIO Aachen.  The development the equestrian show has shown "makes us very proud here at the FN". 
One is now not only looking forward to the coming CHIOs, but of course to the European Championships 2015.  Carl Meulenbergh, President of the Aachen-Laurensberger Rennverein e.V. (ALRV), the organisers of the CHIO Aachen, is particularly happy "that we have come to the agreement during this present CHIO Aachen to continue our extremely trusting cooperation for a further ten years."
The "O" stands for "Official" (CHIO=Concours Hippique International Officiel).  The CHIO Aachen is thus the official equestrian show of the Federal Republic of Germany and the only venue in Germany, at which Nations' Cups are allowed to be staged.  The existing contract runs until the year 2015. 
Nations' Cups in the disciplines jumping, dressage, eventing, driving and vaulting are staged in Aachen.  Over 350,000 spectators are expected to visit the showgrounds during the CHIO Aachen 2013.  International events have been organised at the Aachener Soers since the early 1920s, the club was already founded 115 years ago.
Photo © Astrid Appels
Related Links
Eurodressage Coverage of the 2013 CDIO Aachen
FEI Dressage Nations' Cup Created for 2013