2013 CDIO Aachen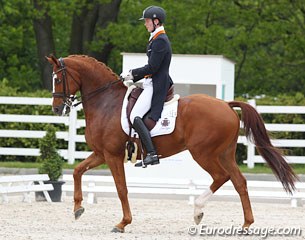 The Dutch Equestrian Federation and team trainer Wim Ernes have decided to send only their B-team to the 2013 CDIO Aachen, the most prestigious equestrian event of the year. With the best Dutch riders competing at the CDIO Rotterdam one week before, The Netherlands will be represented in Aachen on 25 - 30 June 2013 with its B-riders.
The Dutch CDIO Aachen team includes:
Danielle Heijkoop - Siro
Laurens van Lieren - Hexagons Wellnetta
Stephanie Peters - Unlimited
Diederik van Silfhout - Vorst D
Also for the CDI-leg of the CDIO Aachen competition, Dutch representation is skimmed with no A-listers entered to compete. Laurens van Lieren will be riding Tyara in the CDI-Grand Prix and Heijkoop is bringing her small tour horse Badari.
The 2013 CDIO Aachen will be the third leg of four Nations' Cup competition held this year as a connected string of shows during its pilot season this year. The CDIO Aachen will be the final selection trial for German team selection for the 2013 European Dressage Championships.
Photo © Astrid Appels
Related Links
Eurodressage Coverage of the 2013 CDIO Aachen
Dutch Team Announced for 2013 CDIO Rotterdam