Belgian Dressage News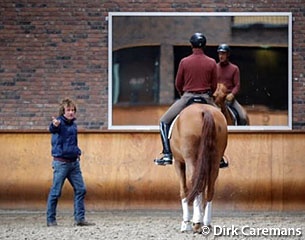 Sjef Janssen, Technical Dressage Advisor for the Belgian Equestrian Federation, has announced the Grand Prix and developing dressage teams for Belgium. Based on his assessment during three observation days, Janssen announced A, B, C and a High Potential teams.
The A-team includes the Belgian top Grand Prix riders and they receive maximum support based on their needs.
Jeroen Devoe - Apollo van het Vijverhof
Claudia Fassaert - Donnerfee
Philippe Jorissen - Le Beau
The B+ team includes combinations which are close to the top and also receive maximum support.
Julie de Deken - Lucky Dance
Francoise Hologne Joux - Wodan
Simon Missiaen - Vradin
Amandine Prevost - Vledder M
The B-team includes 10 combinations which Janssen will assess every two to three months
Ronny Coenraeds - Calypso van het Goorhof
Muriel de Ruijter - Sierappel
Ona Dewagenaere - Dabanos d'Os
Tom Heylen - Universal
Anouck Hoet - Wild Diamond
Delphine Meiresonne - Wipsy van 't Heihof
Mario van Orshaegen - Wilco V
Philip Vermeulen - Cioccolatino
Jorinde Verwimp - Neversfelde Feuer
Wim Verwimp - Pari Lani
The C-team entails combinations which will be coached once or twice a year
Brecht D'Hoore - Sambucca
Claudia Dorpmans - Tin Tin
Brigitte Gerads - Finest Flavor
Joelle Swaelens - Sovado
Michel Teqmenne - Furst D
The High Potentials team includes combinations which have the potential to grow to taking a spot into one of the teams. They will be evaluated every two to three months
Fanny Verliefden - Annarico
Stefan van Ingelgem - Warkant van 't Gestelhof
Dominique Mohimont - Zephyr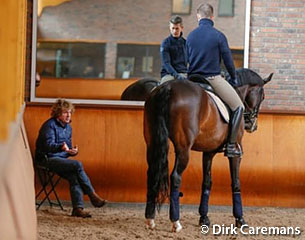 During the team building the riders were informed what kind of support the federation will offer them on a veterinary and mental coaching level.  The riders received information on the mental aspects (Jan Dierens), physio therapy for horses (Patrick Herbots), feeding of horses (Peter Bollen), and show planning (Sjef Janssen).
Riders who aim to qualify for the 2013 European Dressage Championships in Herning have to compete at two mandatory competitions: the 2013 CDN Zandhoven on 21 July 2013 and the Belgian Championshipss in Meerdonk on 1 - 4 August 2013).
Photos © Dirk Caremans
Related Links
Sjef Janssen Hired as Dressage Technical Advisor for Belgium
Sjef Janssen Resigns as Dutch Chef d'Equipe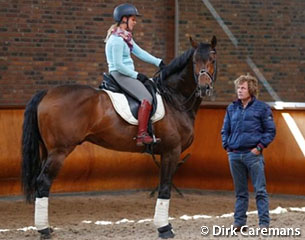 Julie de Deken on Lucky Dance with Sjef Janssen