Dutch Dressage News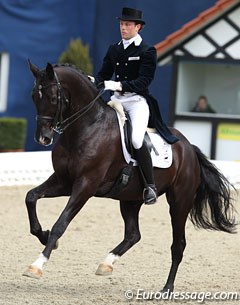 Following a two-day training session at the brand new equestrian centre Seren in Vorden, The Netherlands, Dutch team trainer Wim Ernes was able to review the current training level of his A- and B-team riders and picked a team for the 2013 CDIO Vidauban.
The 2013 CDIO Vidauban is the first competition in a brand new FEI organized Nations' Cup series of which Rotterdam, Aachen and Hickstead are the other competitions that complete the circuit.
At the two-day training session, Ernes assessed the riders and discussed their level with each of the trainers. The focal point was on basic techniques and the technical execution of the tests. Two team riders were absent: Adelinde Cornelissen who was on holiday in Tenerife and Patrick van der Meer who competed in Munich last weekend.
Marlies van Baalen had brought along her rising Grand Prix horse Zigeuner and was enthusiastic about the training days. "They were fun and educational," she said. "I brought Zigeuner because Miciano was resting after the World Cup Finals. Zigeuner is almost at the level so it was very instructive for him. My colleagues did bring the horses along they are going to compete this outdoor season. We not only trained well, but the atmosphere was good. I'm looking forward to the next session."
For the 2013 CDIO Vidauban Wim Ernes selected a team of up and coming Grand Prix riders whereas the big time A-listers will be showing in Rotterdam, Aachen and Hickstead. The team in Vidauban will include Laurens van Lieren, Danielle Heijkoop, Stephanie Peters and Katja Gevers.
Photo © Astrid Appels
Related Links
FEI Dressage Nations' Cup Created for 2013
Brits Reap Rewards on the Cote d'Azur at the 2013 CDI Vidauban
Jeanna Hogberg and Liza Minelli, A Wickedly Winning Combination at the 2013 CDI Vidauban
Danielle Heijkoop Makes Bold Move into the Big League at 2013 CDI-W 's Hertogenbosch
Next One and Stephanie Peters Submitted to Dutch A-Team