2012 FEI World Dressage Challenge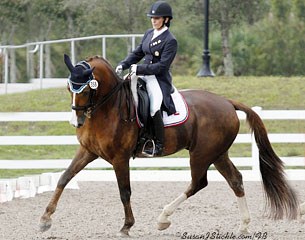 Chilean Virginia Yarur dominated the Prix St Georges and team South Africa the team competition of the Zone 1 FEI World Dressage Challenge, which concluded in October. Judges duo Karin Kruger (DEN) and Christof Umbach (LUX) travelled to Zone 1 countries South Africa, Uruguay, Brazil, Argentina and Chile to assess the riders for this Challenge.
The FEI World Challenge is a global event that includes more than 50 countries divided into nine zones. Two judges are chosen for each zone and they travel to the events where competitors ride the same tests. When the judges conclude their trip through one zone, the results are added together which determine the winner for each class, as well as a team result.
Yarur won the Prix St Georges class in Zone 1 aboard the Westfalian gelding El Dorado (by Ehrentusch). The Chilean rider referred South African Leanne Mosterd on Nightwatch to a second place. Yarur also won the Advanced class with Finn, a Rhinelander gelding by Feinsinn, and was followed by South African Ingeborg Sanne on Adelprag Glenn. Overall South Africa won the team classification, followed by Chile and Argentina.
Yarur is an experienced dressage rider, having been a member of the Chilean team at the 1995 Pan Am Games in Argentina and 2011 Pan Ams in Guadalajara. She also competed in the Odesur and South American Games. In 1996 she was the individual bronze medallist. In 2011 Virginia made the effort to relocate to Wellington, Florida and is now training with Yvonne Losos de Muniz.
"I am very pleased to have won both the PSG and Advanced classes in the FEI Challenge," Yarur commented. "Having made the decision to train with Yvonne and compete in Wellington was really worth it. Yvonne was very generous, sharing so much information about every aspect of training, riding and competing. It has been a great experience and I think we are on the right track to more improvement and bigger challenges in the near future"
Photo © Sue Stickle
Complete results of the 2012 FEI World Challenge  - Zone 1
Related Links
Riders Selected for 2012 New Zealand Section of FEI World Dressage Challenge
New Zealand Dressage Rides High Winning the 2011 FEI World Dressage Challenge
First FEI World Dressage Challenge in Indonesia