2012 CDI Sydney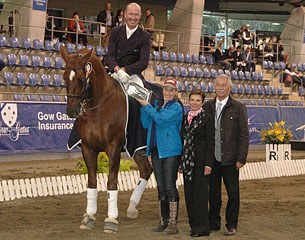 With only 11 hours of daylight and four arenas in use, the schedule for the second day of the Sydney CDI was extremely tight. The first horse competing was in the arena at 8am and the last horse left the arena at 4.30pm, giving just enough time for the prize giving before the sun set.
The first competition of the day was the Mulawa Performance Intermediate CDI 3* and the first horse and rider to hit the arena was Sue-Ellen Lovett on her horse Ko-Olina. Sue-Ellen has represented Australia at two Para Olympics and one Para World Championships. When asked what her condition is, her reply said it all - "I can't see squat!" When Sue - Ellen competes there are 10 floodlights strategically placed at the main markers. This is the only way she can find her way around the arena. This ride was quite emotional as it was the retirement ride for her horse, Ko-Olina. After a very competent ride, Sue - Ellen was surrounded by well wishers. What a way to start day two of the Sydney CDI.
Like yesterday's Prix St Georges, Matthew Dowsley and the big moving Falstermeyer was too hard to beat. Second went to David Shoobridge on the stallion OO Seven. This well trained stallion has made a big impression on Australia's dressage scene - you can hear his name bantered around amongst the spectators. And third place went to Kate Taylor-Wheat on the very popular black gelding, World Star.
The Under 25 Grand Prix CDI kicked off at 10.30 with the same field as yesterday's Intermediate II. Three of the horses are seasoned Grand Prix competitors and the other two, Waca W and BJ Kaneto Casablanca, are in their first season of competing Big Tour. Western Australian rider Stephanie Spencer on Rambo II won the competition with a score of 64.186. Second place went to Megan Bryant on Northern Xanthus III , scoring 64.141 (talking about close). And third place went to Jodie Newall on Maxx Jasper (owned by Sue Steggle), scoring 62.419.
Heath Ryan Wins the CDI Grand Prix Special
Heath Ryan and Regardez Moi have eclipsed a competitive field to win the Grand Prix Special at the 2012 CDI Sydney on Friday 4 April 2012. Having already taken home second place in yesterday's Grand Prix, the combination was confident leading into the Special and performed outstandingly to blitz the ten strong field.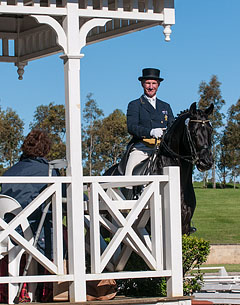 Recording a score of 67.133, Ryan is pleased with his win and is hoping to stay ahead of the competition in tomorrow evening's Freestyle.  (see video of Heath Ryan's GPS test)
"He (Regardez Moi) was good today, he probably held himself in better balance. We're certainly gaining in confidence," said Ryan. "Regardez Moi is very strong in the piaffe and passage and he's also an experienced competitor so it's up to me to go to the limits to take advantage of our strengths," he added. "Tomorrow night it's anybody's game and there will be some very competitive riders out there trying to win."
Some spectators were a bit disappointed to learn that Maree Tomkinson's mare Diamantina IV did not take part. Maree had decided to reserve the mare's energy for the Grand Prix Freestyle on Saturday night. With Maree and Diamantina out of the contest, Heath Ryan and Regardez Moi romped into first place.
Finishing in second place was Sheridyn Ashwood and Prestige VDL. The combination was first to go and set the standard high recording a score of 65.333 which only Ryan and his 15 year old stallion could better. Susan Paix and Sheer Etiquette were third.
In yesterday's Grand Prix, it was the dynamic combination of Maree Tomkinson and Diamantina IV who recorded the day's best performance.
The duo is quickly asserting itself as one of the top Australian based Dressage combinations after recording their fourth win from five CDI Grand Prix starts.
"I'm very lucky to have such an amazingly talented horse but also to have such good rideability and trainability. She has fantastic focus in the test and all these things go to make a pretty wonderful horse," said Tomkinson. 
The combination scored 68.936 in the Grand Prix finishing ahead of Ryan and Regardez Moi who ended on a score of 67.277.
Ashwood and her young stallion were also in the mix on day one producing a score of 66.149 which was good enough for them to take home third place.
Top combinations will be back in action tomorrow evening when the Grand Prix Freestyle gets underway at 8:15pm.
Photos © Venhaus
Related Links
Scores 2012 CDI Sydney
Dowsley and Tomkinson Win on Day One of 2012 CDI Sydney