2012 CDI Sydney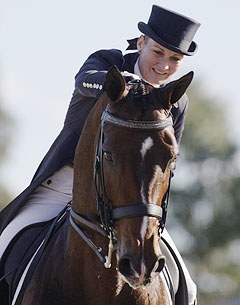 With over 200 horses and 150 riders, no wind and a big blue sky, the first day of the 2012 CDI Sydney was destined to be a beauty! Well before 8am the warm up arenas were full of Small Tour horses preparing for what ended up being a tight battle for the top four positions. There has been a lot of talk prior to this competition about the high calibre of horse and rider combinations.
At least half of the 35 strong field had the potential to win the class but in the end it was Australia's Matthew Dowsley who won.
Dowsley rode a stunning test to take first place with a score of 71.342 which is the second highest score for the history of the Sydney CDI (Prix St Georges). Second place went to Kate Taylor-Wheat and her magnificent black gelding by World Magic - together they scored 68.000. Third place went to David Shoobridge from Revelwood Stud on the stallion OO Seven with a score of 67.737. Just behind was Daniella Dierks on the Londonderry gelding, Luxor 118,which is owned by G.K & J Farrell, scoring 67.658.
For the first time, the Sydney CDI held two under 25 Big Tour competitions. Today was the Under 25 years - Intermediate II. It was an all female affair with these riders making the big leap from Small to Big Tour. Combined, these riders would only have a handful of GP tests between them. There was not one point between the top three. Stephanie Spencer on Rambo II came first with a score of 64.158, Jodie Newall on Maxx Jasper came second with 63.789 and third place went to Megan Bryant on Northern Xanthus III with a score of 63.711.
Both the Prix St Georges CDN finished just before lunchtime. The Prix St Georges was won by Matthew Dowsley on Linda and Beau Dowsett's horse Flavio with a score of 67.474. Second place went to Victoria Welch on Brentanus with 65.526 and third went to Judith Clarke on Diablito, scoring 63.289. Judith is also one of Australia's highly respected eventers.
The Grand Prix CDN had 8 combinations competing. First place went to Maree Tomkinson on Rodrigo III, scoring 61.809. Second place went to Bennet Conn on Jaybee Apprentice with a score of 60.340 and third went to Verity Spargo-Shiner on APH Faust with a score of 59.851.
As many of Australia's top Grand Prix riders are in Europe contesting for a place on the 2012 Olympic Team, it made the Grand Prix CDI very interesting as it opened the doors for new horse and rider combinations to secure a Sydney CDI trophy and title. One of the riders, Claire Siedl, dropped a tack box on her foot the day before. As a result she passed the ride of her horse, Rolex, to Queensland rider Nicole Tough. Although Nicole doesn't have a lot of experience in the competition arena at this level and the test wasn't good enough for a place, she still did a great job. It was consistent and relaxed - well done!
Considering most of Australia's top GP riders weren't competing there still were a few rides scoring above the 65% mark. With only a small number of GP tests under their belt, Maree Tomkinson and her exuberant mare Diamantina IV excited the crowd with a test of high energy and strong engagement. This was enough to win the class with a score of 68.936. The very experienced and popular Heath Ryan and his Rubinstein stallion, Regardez Moi, came second scoring 67.277. Third place went to Queensland rider Sheridyn Ashwood on her impressive stallion Prestige who is by Silvano N. Together they scored 66.149. Both Maree and Sheridyn proved that they have the skills and horses to become internationally competitive.
It will be interesting to see how they go in the GP Special and the GP Freestyle. Only time will tell.
Photo © Peter Stoop
Related Links
Scores 2012 CDI Sydney
2012 CDI Sydney Opens Gate for New Big Tour Horses to Win Trophies