Swiss Warmblood Breeding News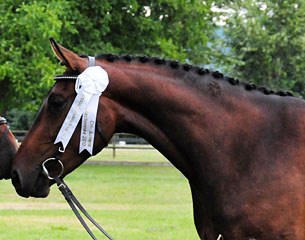 Fayahra MFW became the dressage champion mare of the 2010 Swiss Warmblood Elite Mare Show for 3-year old mares held in Avenches, Switzerland, 24 July 2010.
Two mares were proclaimed champion in the 3-year old age category. Fayahra won the dressage mare division, Lalibela von Schlösslihof was the champion amongst the show jumping mares. Fifty-five 3-year olds and sixteen 4-year olds received the title of Swiss Premium Brood Mare. In the top 10 ranked mares, only four of them were bred for dressage. 
Leading 3-year old dressage lady was Fayahra MFW, a Feinsinn x Gagneur du Pichoux x Freischütz offspring, bred and owned by Max Fankhauser. The mare scored 7.13 in his cross country test, 9.0 for type, 8.0 for gaits and 8.33 for conformation, which totaled 23.79 points. 
In the 4-year old division mainly show jumpers wielded the axe of power, as only four out of sixteen ranked mares had dressage bloodlines. The 4-year old champion was Esquilia GB (by Escondido x Karacondo x Grand Veneur). This mare is bred by Walter Keller and owned by Sonka Iseli. She scored a total of 24.67 points for type, conformation and gaits.
The highest ranked 4-year old dressage mare was sixth-placed Scarlett CB (by Sir Donnerhall x Landor S x Fruhlingstraum II), bred by Christian Bürki and owned by Urs Ludascher. She scored 7.67 for type, 7.33 for conformation and 8.0 for gaits, totaling 23 points. 
Photos © Elisabeth Weiland
Results 3-year old Fillies
Horse - Pedigree - Breeder - Owner - Points: Cross country - Type - Gaits - Conformation (x 2) -- Total
1 Lalibela v. Schlösslihof (by Lady Lover x Karondo v. Schl'hof x Lido Minotière)
Breeder & Owner: Rütimann Werner - 7.04 - 8.67 - 8.00 - 9.00 - 8.56 (17.11) -- 24.15
1 Fayahra MFW (by Feinsinn x Gagneur du Pichoux x Freischütz)
Breeder and Owner: Fankhauser Max - 7.13 - 9.00 - 8.00 - 8.00 - 8.33 (16.67) -- 23.79
2   Kelly Karondo v. Schlösslihof x Heraldik XX x Calando II)
Breeder: Oeschger Stefan & Silvia - Owner: Trauffer H.-P. & C - 7.42 - 8.67 - 8.00 - 8.00 - 8.22 (16.44) -- 23.86
3   Lovely Lady E.W (by Lady Lover x Ingo x Gipsy du Mesnil)
Breeder and Owner: Weber-Liechti E. & H. - 7.33 - 8.00 - 8.00 - 8.67 - 8.22 (16.44) -- 23.78
4   Vina Conteur (by Coeur de Nuit x Calando II)
Breeder and Owner: Oberli Beatrice -  7.96 - 8.67 - 7.00 - 8.00 - 7.89 (15.78) -- 23.74
5   Cartani's Girl CAC (by Cartani x Calido x Acord II)
Breeder and Owner: Amstutz Christian - 7.50 - 8.00 - 7.67 - 8.00 - 7.89 (15.78) -- 23.28
6  Karina von der Breiten (by Karacondo x Rocky de Baussy x Quai d'Orsay)
Breeder and Owner: Bader Thomas -  6.92 -  8.33 - 8.00 - 8.00 - 8.11 (16.22) -- 23.14
7   Sarisha B  (by Sir Alfred x Don Primero x Glorioso)
Breeder and Owner: Bögli Theodor - 7.29 - 8.00 - 7.67 - 8.00 - 7.89 (15.78) -- 23.07
8   Rovina  (by Riccione x Calando II x Santos)
Breeder: Rothlin Christine - Owner: Ronald, Alikon - 7.46 - 7.00 - 8.00 - 8.33 - 7.78 (15.56) -- 23.01
9   Unica von Büren  (by Padarco v. H. Hertsv. x Ulysse de Thurin x Nouredine du Lirac)
Breeder and Owner: Schmalz Hans - 7.67 - 8.00 - 7.00 - 8.00 - 7.67 (15.33) -- 23.00
10   Diva du Marais  (by Don Schufro x Florestan I x Galant Pittet)
Breeder and Owner: Verena, Bière - 6.83 - 8.00 - 8.00 - 8.00 - 8.00 (16.00) -- 22.83
Related Links
Weltjunge Only Dressage Colt Approved at 2009 Swiss Stallion Licensing 
Bugatti G, Darko of De Niro, Del Cuore Win 2009 Swiss Young Horse Championships