German Dressage News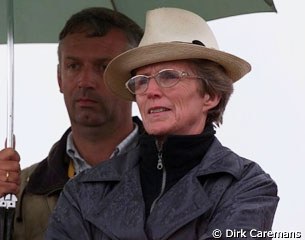 Madeleine Winter-Schulze, member of the board of directors of the German Equestrian Federation, is celebrating her 60th birthday on June 28, 2001.
Born in Berlin, Winter Schulze began her riding career in 1951 in her native village. In 1959 she become German Dressage Champion and in 1983 and 1986 she won the important Dressage Derby of Hamburg. Besides dressage, show jumping has been one of her main focal points in life. In 1969 and 1975 she won the German Show Jumping Championships for female riders. In 1997 she resigned from an active competition career. Since she has been married to show jumping rider Dietrich Schulze, Madeleine has been part of many honory functions. Since 1989 she is member of the selection committee for dressage riders of the German Olympic Equestrian Committee. In 1997 she became part of the board of directors of the German Equestrian Federation and has worked regularly as chef d'equipe for Germany's junior, young riders and Grand Prix riders' teams.
Further, Madeleine Winter-Schulze supports German Dressage and Show Jumping by purchasing top quality horses and offering them to the best riders. Ina Saalbach-Muller, Karin Rehbein, Ludger Beerbaum and Isabell Werth have worked closely together with Winter-Schulze. Her positive and beneficial influence in the equestrian world was decorated in 1998 with the "Silbernen Pferd" and in 2000 with the "Spoga Ehrenpreis" and the "Friedensreiter Preis".
Related Link:
Madeleine Winter-Schulze Wins Friendensreiter Preis 2000