Real Estate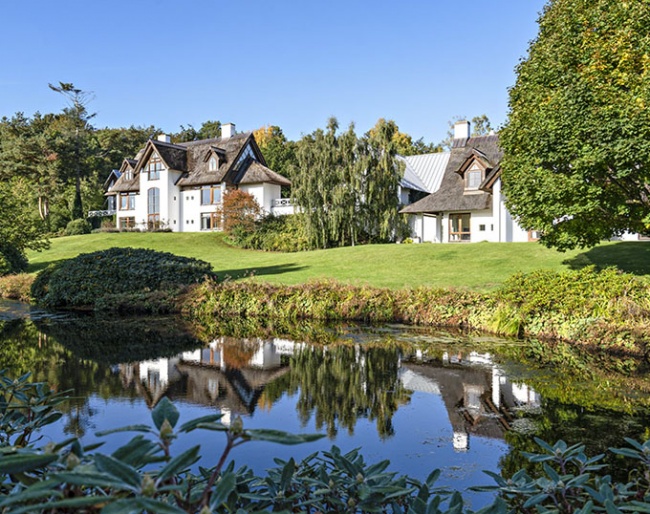 This private residence in Ebeltoft on Denmark's Jutland peninsula isn't just any residence. The family who created it followed their hearts. Finances and other inconvenient details were no obstacle to their pursuit of pure joy. Because this is about passion, about a way of life. About the love of horses.
This is Kleppenhus. An equestrian estate, situated amid natural beauty, on Søholtvej with an unobstructed view of lovely Stubbe lake.
Unabashedly exquisite down to the smallest of details, it's almost impossible to list them all. Everything is top shelf.
All You Desire
The short version is 70-acres of residential farm, a residence with 557 m2 of floor space, a guesthouse with 273 m2 of floor space.
There are four stables with horse solariums in every stall, wash area, horse spa, water treadmill, covered horse walker with spotlights, a 20 x 60 meter insulated indoor arena with glass façade and skylights, special surface, watering area, and sound/music system.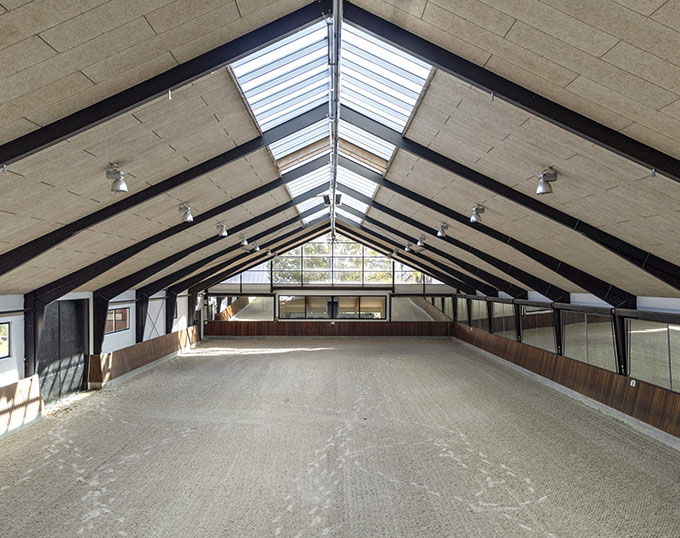 Riders will love the rider's lounge with its Multiform kitchen, gallery, and fireplace, and the three employee flats. Lakeside, there's an outdoor arena for year-round use with excellent drainage, rubber base mats, and geopad.
Exclusive Setting
Kleppenhus is an exclusive setting for family life, sports, and outdoor living in stunning natural surroundings just 10 minutes from the Århus airport.
It's built in a traditional style with a modern twist. Thatched roof with copper, door and window frames of mahogany and south-facing picture windows. Limestone and travertin tile flooring, solid hardwood planks from Dinesen, brick fireplaces in every living area, exclusive "Køkkensnedkeren" kitchen, library, and wine cellar.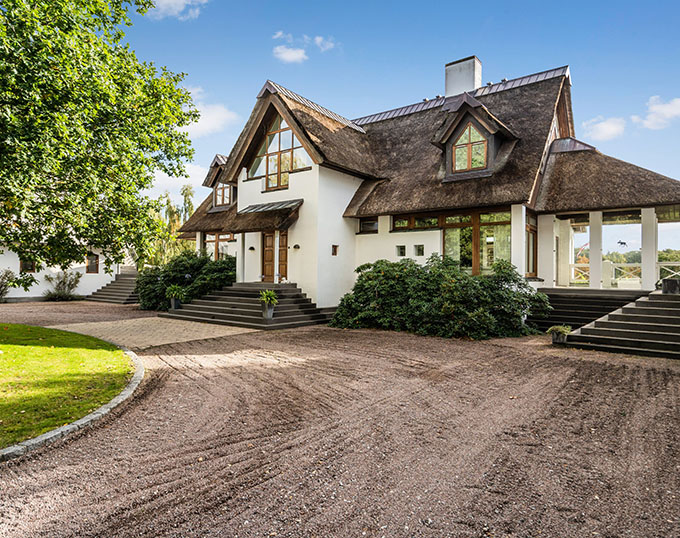 The residence looks out on a park with a burbling stream and enormous rhododendrons, surrounded by forest, lake, and pastures. There's a fine little copper-roofed artists' studio as well.
The property is perfect for two or more families. Or perhaps more still because there's a 200 m2 renovation-ready house on the grounds as well.
For more information and details or to schedule a viewing, contact: