Health Care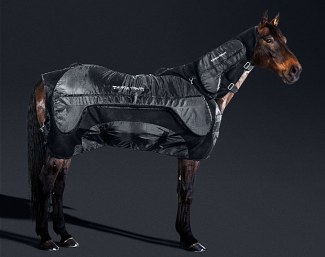 Muscle Therapy is a Danish company that has created a unique massage therapy system designed to relieve pain and muscle tightness in horses and riders.
Made for and by people with a history of muscle pain, Muscle Therapy can be your solution to relieve muscle pain in both horse and rider. . 
For Equines: Muscle Therapy Equine
The "Muscle Therapy Equine" massage blanket can be used every day, as a pre-training warm-up as well as post-training cool down to remove lactic acid build-ups. Horses experience this massage blanket as extremely relaxing and the effects are immediate. 
"Your horse should be treated like the athlete it is," said Muscle Therapy founder Christina Hurtley. "A horse has over 700 muscles and just like humans it benefits from physiotherapy, and to have the opportunity to be treated daily with this professional massage blanket."
"The blanket massages all the horse's muscles in the top line and the positive effects are immediately visible. Daily massages will increase a horse's performance as well as reduce healing time," Hurtley explained. "The massage blanket increases blood circulation and improves your horse's flexibility. And because it loosens muscle tension, we have even seen that it reduces swelling in the legs, joints, and tendons. Also, they feel very relaxed when they get their daily massages and it's good prevention for stress-related colics."
The "Muscle Therapy Equine" massage blanket has 16 massage engines that are powered by a battery. It comes with 10 different therapy and 5 massage programs that can be set in 5 intensity levels. The timer can be set for 15, 30, 45 and 60 minutes. 
"We made sure that it's an easy-to-use design, that is comfortable for the horse," Hurtley explained. "The material is made of heat-reflecting material and there is a detachable neckpiece. The blanket packs into one bag, which makes it very easy to travel with, and it is a fantastic tool to bring to shows to relax the horse, prepare it for the work ahead, and treat it after a hard day's work."
For Humans: Muscle Therapy Optimum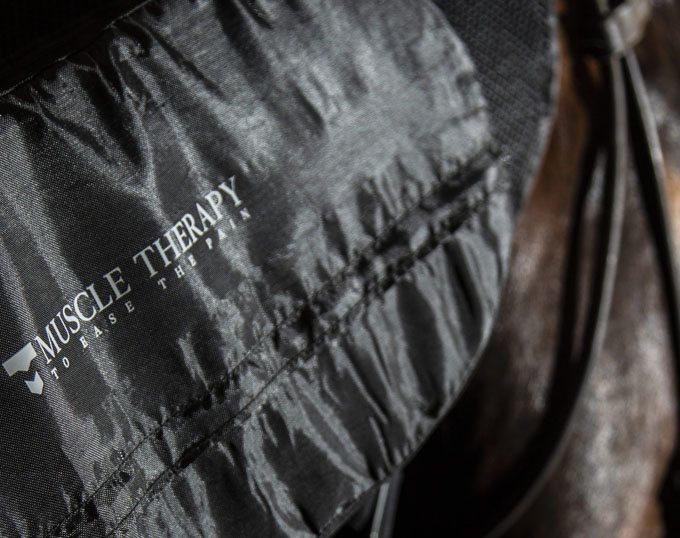 Muscle Therapy was founded by rider and trainer Christina Hurtley, who was diagnosed with Fibromyalgia. The disease affected her upper body, arms, and neck. 
"It felt like inflammation in my muscles. It even hurt when somebody just touched my skin. I tried physiotherapy, but it just caused me more pain," said Hurtley. "This is why I made Muscle Therapy Optimum, a portable massage bed with several therapy programs and infrared lamps. I use it every day to treat my own pain and bring it with me wherever I go."
The portable massage bed, named "Muscle Therapy Optimum" provides relief for riders suffering from ME, fibromyalgia, multiple sclerosis, Parkinson, sports injuries, insomnia, back pain, migraine, respiratory problems, stress and anxiety, muscle cramps, neck and shoulder pain, arthritis and joint stiffness.
"The bed allows you to choose the type and intensity of massage and infrared heat, which is most beneficial for your particular condition," said Christina. "You have complete control over your own treatment by choosing from five different massage programs or 10 different therapy programs."
Muscle Therapy increases blood circulation and improves lymph drainage, and it relieves tension and muscle pain. "Daily use ensures a healthy and well-functioning body," Christina added. "It's a painless and pain-relieving massage treatment."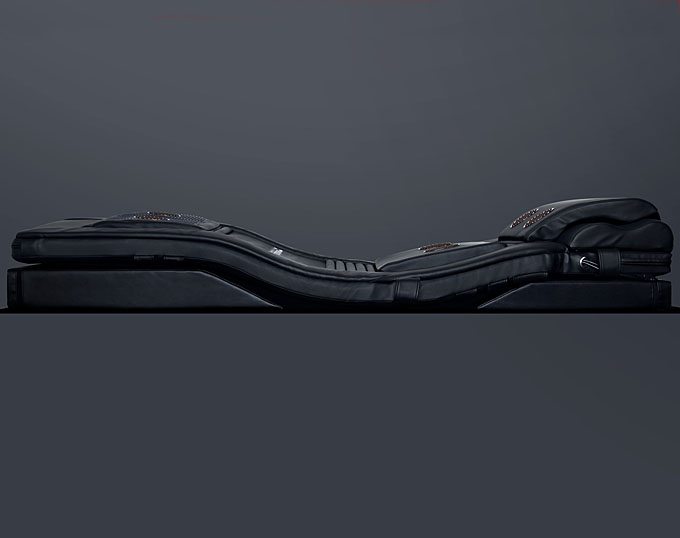 "The Optimum provides circulation therapy, which is a circulating soothing massage therapy that loosens and stimulates the deep muscle tissue without any side effects," Hurtley continued. 
"The immediate effect is increased muscle activity and improved blood circulation, without movement and straining any muscles. You can combine it with infrared heat for pain-relief - The infrared lamps heat up the body and help the massage engines to penetrate the tissue and muscles. It also improves blood circulation in the muscle tissue and helps the body remove its waste. The body's natural healing process is accelerated and the immune system stimulated."
Discover Muscle Therapy
Discover Muscle Therapy online and find pain relief in the comfort of your own home!
Muscle Therapy is also looking for more distributors and sales agents in Europe and North America.
If you want to be a part of Muscle Therapy, feel free to get in touch. 
Contact Muscle Therapy directly for questions and information: