Danish Warmblood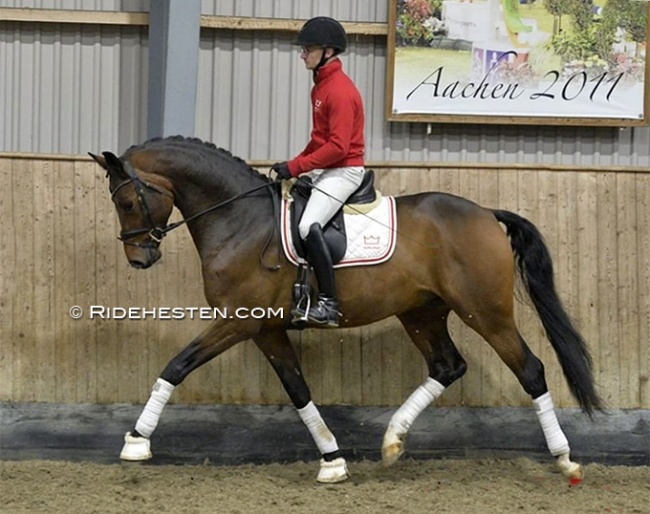 Svalegård Hot Driver became the winner of the 2022 Danish Warmblood autumn stallion performance testing which concluded at the Tørring riding centre on Sunday 27 November 2022. 
Eight Danish Warmblood approved
Fourteen stallions participated and all fourteen concluded the testing in front of the eyes of committee members Torben Frandsen, Bjarne Nielsen, Johnny Sørensen and Vicky Nortvig.  Test rider Allan Grøn assessed the rideability and gaits of the horses
Only eight of them were licensed for Danish warmblood breeding, the other six have not yet been presented to the DWB stallion licensing committee and will need to appear in Herning for approval in March 2023.
Helgstrand Dressage presented 13 of the 14 participating stallion but it was the one Andreas didn't own that produced the top score of the testing: Svalegård Hot Driver.
Svalegård Hot Driver
Svalegård's Hot Driver achieved a whopping 903.5 points for the high score in the group. Sired by Hesselhøj Donkey Boy and out of a Blue Hors Hotline dam, the bay stallion is bred and owned by Else Marie and Jens Chr. Krabbe and presented by Katrinelund stallion station. 
He scored 9 and 9.5 for rideability, 9.5 for walk, 9.0 and 9.5 for trot, 8 for canter, and 9 for potential. 
Top Three
The second best score was achieved by Helgstrand's Åtoften's Springtime (by Springbank II  x Zalando), bred by Stutteri Åtoften. He obtained a total of 870.5 points. He got 8.5 and 9 for rideability, 9.5 for walk, 8.5 for trot, 8.5 for canter, and 8.5 and 9 for potential.
The German bred Feinstein (by Franklin x Rock Forever) scored the third best result: 850 points. He got 8.5 for rideability, 8.5 for walk, trot and canter and potential. This horse was bought at auction for 410,000 euro.
Helgstrand's 1.35 million costing About Me II (by AC-DC x Estobar) was "only" the 6th best scoring stallion of the lot.
Complete results
Svalegårds Hot Driver (by Donkey Boy x Hotline) - 903,5 
Åtoftens Springtime  (by Springbank II x Zalando) -  870,5 
Feinsten  (by Franklin x Rock Forever) - 850,0 
Fifty-fifty  (by Furst Toto x Royal Classic) -  848,0 
Elastic  (by Escolar x Dimaggio) - 834,0 
About You II (by AC-DC x Estobar)   - 812,0 
Value  (by Valverde x Floriscount) - 801,0 
Krokant Star  (by Kremlin MD x Bvlgari) - 790,0 
Geronimo G  (by Glamourdale x Escolar) -  787,5 
Knockando Vh (by Franklin x De Niro)  - 775,0 
Åtoftens Jovani  (by Jovian x Benetton Dream) - 766,5 
Quelle Coleur (by Qaside MD x Captain Fire) - 754,0
Veto  (by Vitalis x Sir Donnerhall) - 704,0
Flashy (by Floricello x Ampere)  - 687,5
Complete results here. 
Related Links
Seven Premium Colts at 2022 Danish Warmblood Stallion Licensing
Fourteen Older Stallions Get Final Approval at 2022 Danish Warmblood Stallion Licensing
Four Dressage Colts Pass 2022 Danish Warmblood Stallion Observation Test