Horse for Sale
Name: Sir Doriol
Breed: Swedish Warmblood
Year of birth: 2013
Sire: Sir Oldenburg
Dam Sire: Don Primero
Gender: Gelding
Height: 172 cm
Asking price: 80,000 euro
Unique opportunity to acquire Sir Doriol as a Grand Prix-prospect.
Sir Doriol is a highly talented dressage horse with three very good gaits, including an amazing walk.
He has competed up to Prix St Georges and placed several times and winning in the similar level MsvA. In MsvB he has multiple wins and placings.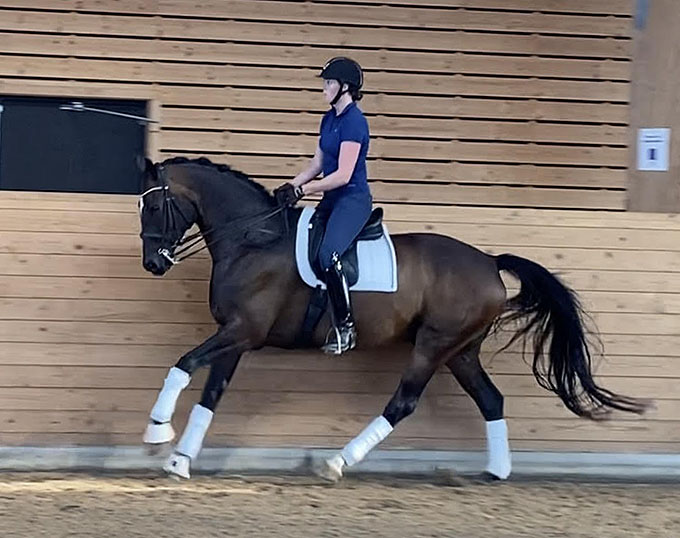 As a five year old, he was in the Swedish Breeders Trophy-finals (similar to Bundeschampionat) after winning a qualifying competition. As a six year old, he was in the Grand final of the same competition and was awarded an honoring fifth place. In the spring as a seven year old, he got one of four tickets to the SWB Trophy at Gothenburg Horse Show. After these successful years as a young horse, he has continued up the classes and is definitely a horse with a great future ahead of him!
The flying changes are very well confirmed and he does steady two-tempis and is playing with the one-tempis. The work with canter pirouettes is well underway, with good half pirouettes.
Sir Doriol is an absolute sweetheart who loves "his" humans and always wants to please his rider and the people around him. He is easy to handle and has never given us any problems with transporting, showering, shoeing etc. Sir Doriol has been ridden outside on a regular basis and is very familiar with everything from traffic to race tracks, going out in the woods and riding on fields. He is also a good jumper and loves to jump both with rider and in free jumping.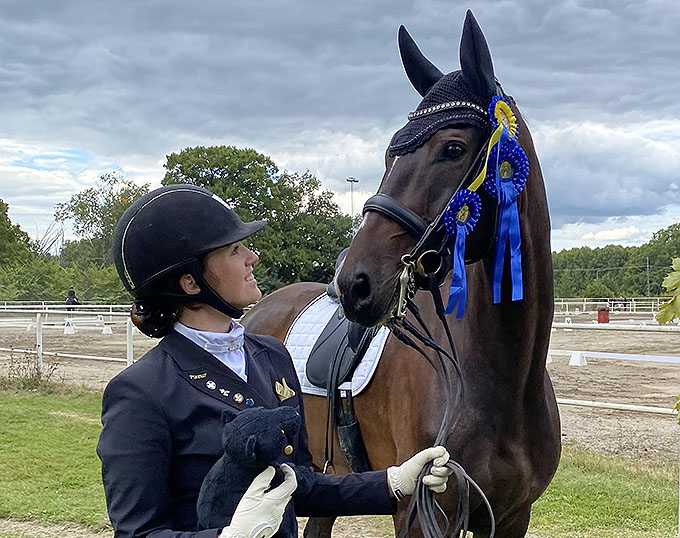 This really is a dressage horse who has it all – both the talent and a golden heart, which is why we are looking for a rider who can give him both the love and the excellent education that he deserves.
He could be a great teaching master for a young rider, but is not a beginners horse as he has some nerve and requires a confident rider – which does in no way mean that he is a "difficult horse". He is easy going and always a pure pleasure to ride, bringing us joy everyday!
The sire Sir Oldenburg is a multi talented horse producing successful offspring in both dressage, jumping and eventing. He is known for passing down his rideability, work ethic and a nice temperament. Sir Doriol's dame Midori (F.2) (SWB) is a three star selection mare within SWB, based on her own performances in competition. She has also competed in the finals of the Breeders Trophy.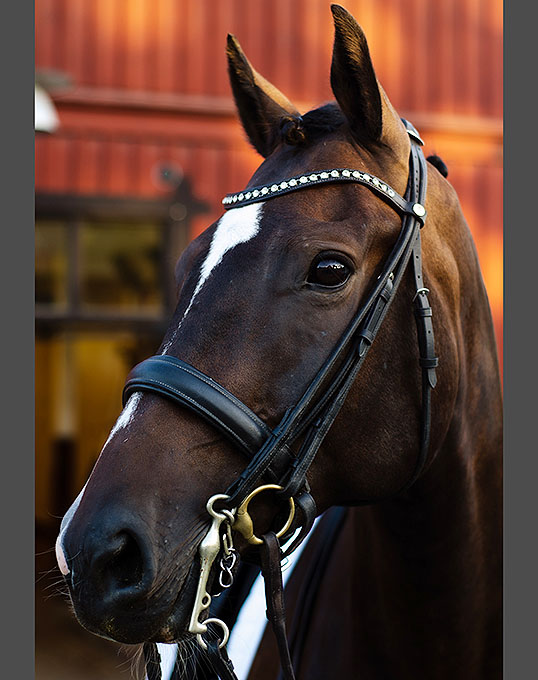 Sir Doriol is offered for sale by his breeder. He has clear x-rays, taken when he was a three year old and also when he was seven years old. He is overall an exceptionally healthy and sound horse!
For more information, contact the rider: