Pony for Sale
Name: Charming Duke
Breed: British Sports Pony 
Year of Birth: 2016 
Sire: Caesar 171
Dam Sire: Painted Black
Gender: Gelding
Height:  148 cm - 14'2h
Asking price:  £125,000 
Charming Duke is a 6-year old British warmblood sports pony, who would be suitable for a small adult as well as teens wishing to be competitive at FEI pony level. He is the 2021 British Young Pony Champion as a 5-year old and qualified for the Nationals for 6-year olds this year.
Competing at elementary and medium level with a green but easy to ask for flying change each way, Duke has truly incredible movement, inheriting his canter from his sire Caesar 171 who has produced many internationally successful  FEI ponies.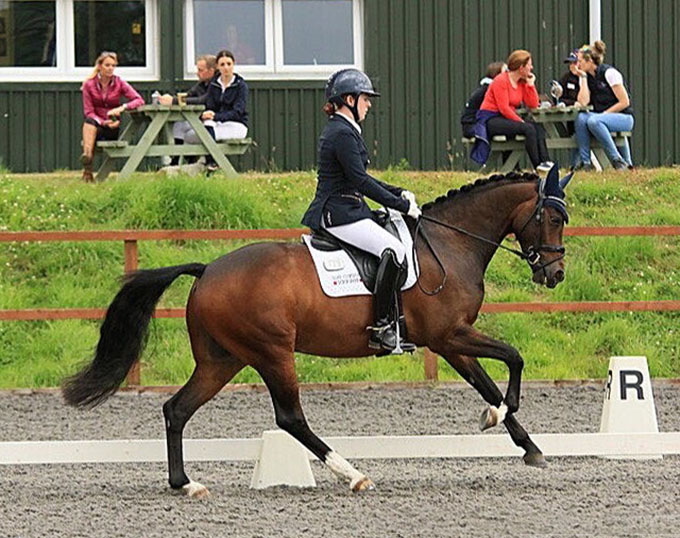 Duke was the 2021 British Young Pony Champion in the 5-year old division with a score of 84.8% with a 9 for his canter and no other score below a 7.8 He won the GB National 6-year olds class this year as well with a score of 81.8% and a 9 for his Ggeneral impression and future potential with the comments from the judges being "high potential and lots of talent". 
Previous to the 6-year olds this year Duke competed with a 13 year old rider give him more experience. Together they produced some great results including being placed in the top ten at the winter nationals this year. At all points duke was a safe and kind ride for Luke who had previously never competed to the level they achieved before. After that the owner took the ride back for the young pony class with a view to sell him and he has since qualified for the summer British nationals at elementary Gold scoring 73.7% and won the medium gold also. So he will be competing there in September. He recently did two freestyle tests scoring 81% in the elementary and 72% in the medium.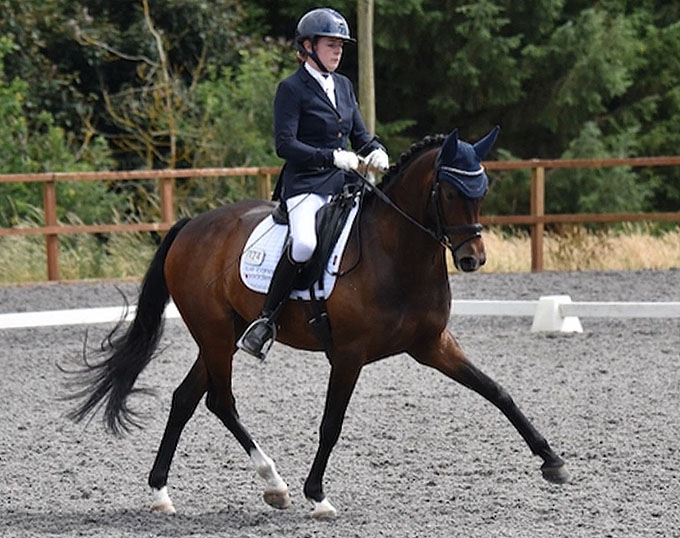 Duke has a natural talent to collect in the canter and a huge ability in the lateral work with a very expressive front leg action. He is a safely forwards thinking pony who loves to have a variety in his work between hacking and jumping. He lives out in the fields with us, but is equally content stabled. We regularly travel 11 hour journeys to compete and train in Gloucestershire so he is used to traveling long journeys. Duke has never had any veterinary treatment besides the usual vaccines and teeth check and is very well behaved for this, Fine for the farrier also. 
Duke is a very kind pony, always safe to be around in the stable and has a really fun cheeky personality. He loves all horses and people around him and is now looking for his next best friend. 
He has a big talent for the higher level work so would suit both a young teenager wanting to be successful at pony FEI but also for a small adult looking for a small but talented horse for the higher levels. He is training changes and canter pirouette work at home and continuously holds his own in the professional (gold) level classes with me.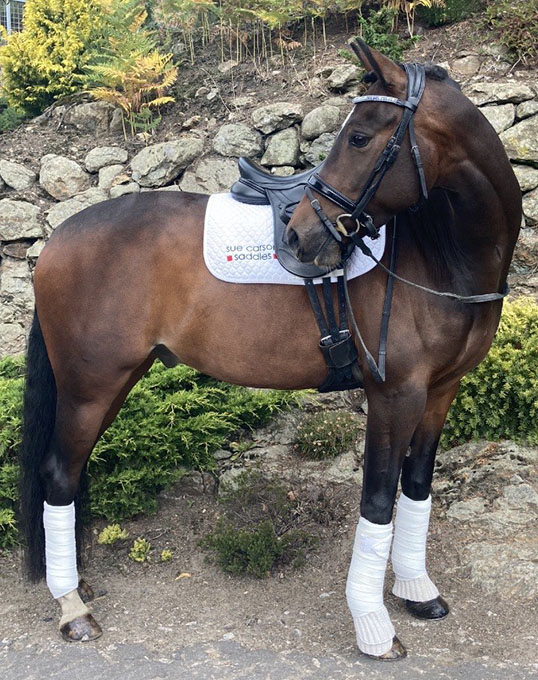 He has been with us since he was a foal so entire history is known. Open to any viewings and trainers welcome. Happy to do more video/video calls for anyone abroad who may be interested. 
We are located in Aberdeen, Scotland, only 5 minutes away from the closest airport and we are happy to pick up and drop off anyone looking to come view him. Lots of nearby hotels for you if you wish to stay overnight and view him more than once , we have fabulous facilities to show him with an indoor arena. 
Can be sold with own tack included. 
Owner Contact Info