Real Estate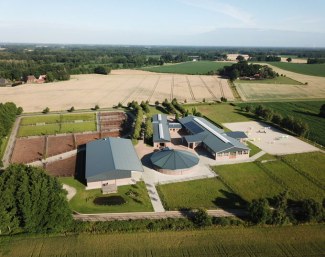 This is a unique opportunity to acquire an extremely well-maintained equestrian facility that meets the highest standard for horse enthusiasts. Located in Badbergen, Germany, this is a state-of-art horse yard for the demanding horse owner.
The facility includes various halls and outdoor facilities and extends over about 4 hectares of land. With the exception of the riding arena, which is partly old but was extensively modernised and extended in 2019, all buildings and outdoor facilities were constructed in 2019.
The entire facility was planned from the drawing board in one piece. It was built with a lot of expertise, attention to detail and with sufficient budget. Everything that a rider's heart can possibly desire has been thought of.
Location
This exclusive riding facility is centrally located in the heart of Germany ́s professional riding region, near Vechta, close to the A1 motorway, exit Holdorf. 
The distances by car are about 28 km to Vechta, 42 km to Osnabrück, 84 km to Oldenburg, and 94 km to Bremen. Düsseldorf airport is approx. 2 hours
Facilities
The following buildings and outdoor facilities are part of this sales offer:
Riding arena (20 m x 60 m), Ebb- and Flow System, with an adjacent stable building
Office space, meeting room / casino with pantry kitchen
2 staff apartments on 1st floor with separate entrance
4 horse washing areas, 2 solariums
Tack room with office
Separate room with 2 industrial washing and drying machines
Separate ladies and gentlemen WC's
Space for farrier with extractor hood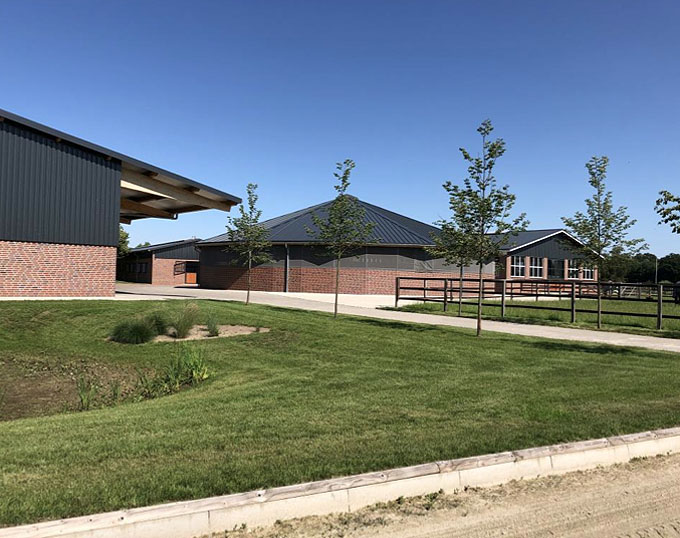 The large indoor riding arena was extended and extensively modernised in 2019, so that it now presents itself in an immaculate condition. It is of the highest standard, both technically and with regard to the entire interior equipment.
On one side of the front entrance area there is a spacious, new meeting room /casino with high quality furniture and a pantry kitchen. On the other side of the front entrance there is a spacious office room. An appealingly designed customer area in front of the riding square offers seating for spectators.
Two fully equipped staff apartments are located on the first floor, above the meeting and office area. There is a separate outside entrance and staircase to these apartments. Both apartments are equipped with a fitted kitchen, a bathroom, a bedroom and a large living area.
The heated areas in the building need 88,1 kWh (m²a) / energy class C / heating system built in 2017.
24 horse boxes, video monitored, (4 m x 3.30 m)
The horse cleaning and washing areas are connected to the hall with the horse boxes. In addition to the total of 24 horse boxes, there is a further tack room with a second solarium, a storage room with tools, a storage room for horse blankets and another storage room for various accessories. The entire horse cleaning and washing area, as well as all 24 stables (4 m x 3.30 m) are equipped with a rubber screed footing. The 24 horse boxes are each individually video-monitored and have outside windows with a tilt and swivel function, which are grated with powder-coated steel.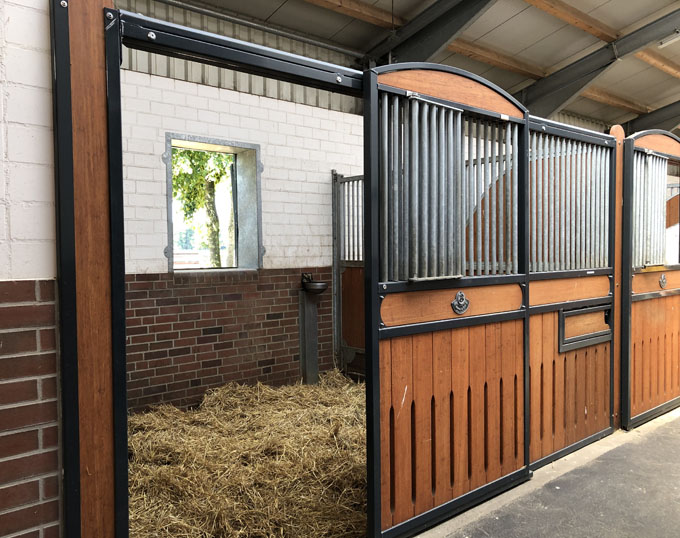 The entire high-end box system, as well as the hall doors, all other doors to storage rooms etc. as well as the stable windows were installed in 2019 by "Röver & Rüb" (an exclusive high-end German manufacturer). A "Kneilmann" bale trolley as well as other technical equipment and machines are part of this purchase offer.
Lunging arena with Horse Walker-System (diameter 26 m), Ebb and Flow System
Storage and multipurpose barn (20 m x 50 m)
26 tons "Volvo" horse truck (six horses)
1 "Stephex" horse sprinter (2 horses)
2. diesel tanks, each holding 500 liters
Rainwater catchment pond created as a biotope with a wood plank terrace infront
Outdoor riding arena (40 m x 70 m), Ebb- and Flow System
Racetrack (length 800 m), Ebb- and Flow System
10 sand-paddocks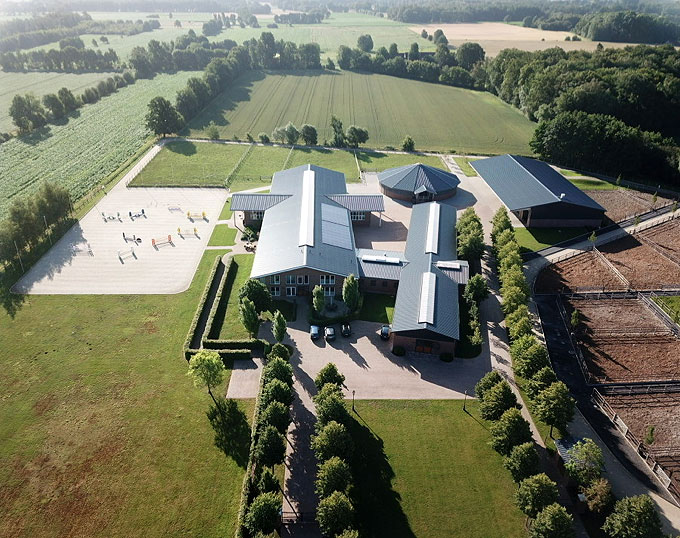 4 grass-paddocks
4 pastures, 1 fresh water drinking trough
Water treatment plant
Sewage treatment plant
Extensive garden and outdoor facilities
Various seats with teak garden furniture
2 entrance gates with intercom-system and parcel box
Heavy duty paving
A detailed brochure with description of all facilities and amenities can be requested from the realtor.
Asking price: 6,000,000 euro - commission free for the buyer
Realtor
Cousin Immobilien GMBH: +49 40 - 866 44 58
Hamburg, Germany
Maria Grünewald: +49 173 – 60 69 091
Cathrin Hinrichsen: +49 179 – 49 28 100
Email: office@ihr-cousin.de