Foal for Sale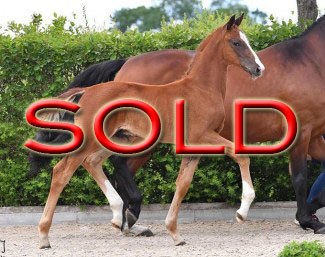 Name: Brilljand
Breed: Oldenburg
Date of Birth: 11 April 2002
Sire: Best of Gold (by Belissimo M x Diamond Hit)
Dam: Cajah
Dam Sire: Happy Diamond x Rouletto x Cardinal xx 
Gender: stallion
Colour : liver chestnut
Expected height: around 172- 175 cm (17.0- 17.2 hh)
 
Brilljand is a real eye-catching, masculine type of foal. He always presents himself very well and is interested in his surroundings.
He reminds the breeder a lot of his outstanding grand sire. Brilljand has swing in his movements. He has natural elasticity, really coming from behind through his whole body in a nicey uphill way. He always takes the weight from behind, through the body.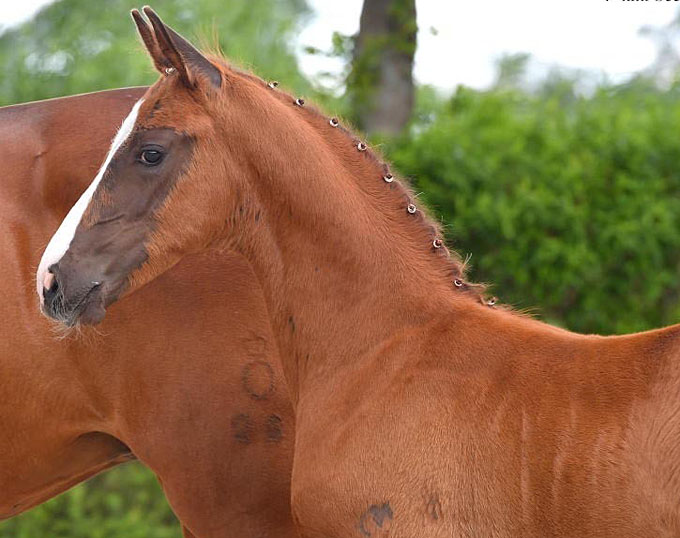 He has very correct hoofs and legs - and he is a really smart, curious and friendly boy, showing good manners and a high interest in playing and working together 
Brilljand seems to develop into a fantastic, high quality  dressage horse with the ability to follow his sire and grand sires into Grand Prix sport step by step .
In case desired by the new owner, we are happy to organize a top place for rearing this youngster up in best care.
Located in Germany