Foals for Sale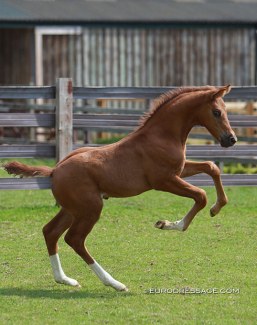 With Covid-19 hitting Europe hard, Eurodressage has decided to have a June Super Sale, offering deep discount prices on an advertisement for a foal, yearling or 2-year old in our Youngstock Market, until 30 June 2020.
Take benefit of the massive traffic Eurodressage gets on its website and social media from a niche audience of dressage and breeding enthusiasts and present your foals for sale.
The June Super Sale entails that all prices for a Youngstock advertisement  have been DEEPLY DISCOUNTED. During the month June 2020, a 6-month listing of your foal or youngster (born 2020, 2019, 2018) advertisement will be 75 euro (instead of the usual 125 € - Excl VAT).
Take advantage of this amazing opportunity to sell your foal to a devoted client. Eurodressage has millions of hits a month, making us the biggest website, dedicated exclusively to dressage, on the world wide web. Your ad will be featured on Eurodressage as well as Facebook (307,000 fans), Instagram (24,000 followers) and Twitter (12,000 fans).
If you are interested in running an advertisement, please email us your horse/pony/foal's information including
Horse's Name
Breed
Date of Birth
Sire
Dam Sire
Gender
Height
Asking Price
Description of the horse
Contact info of the owner
Don't forget to email us your best photos and a video link. We will get in touch with you straight away about posting your foal for sale on Eurodressage!
Don't hesitate, Act Now!!
Mail us at info@eurodressage.com
Eurodressage Foal Market: Foals and Youngstock For Sale