Real Estate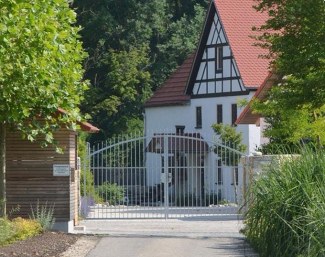 This is a unique opportunity to obtain an exclusive equestrian property in a fully renovated, historic mill near Donauwörth, Germany. 
Located in the famous German Schwalbtal, surrounded by pastures and forests, the yard is located on 7-hectares of lush land. The mill has been fully renovated and conversed into an equestrian yard with attention to detail and atmosphere, retaining the idyllic and historic flair of the original 17-th century building.
The property in the lush Frankenland easily connects with the motorway, but is in a small, quiet hamlet 13 km from Donauwörth and 100 km from Munich. 
Main House and Staff Apartments
Beautifully styled and structured into a upstanding equestrian facility with a EU-insemination centre (certificates have been requested), the property has all the modern amenities for the demanding horse person. 
The main house in Fachwerk-style offers 180 m2 living space. All modern comforts are installed in the house with the utmost care for tasteful building materials. There are staff apartments, each 60 m2,  built in 2013 available. 
Equestrian Centre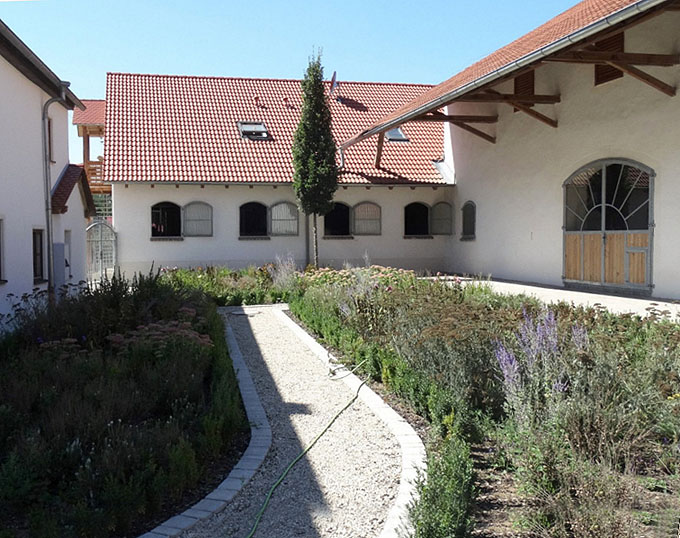 The equestrian centre is based on 7 hectares of land with a lease running for additional 6 hectares. 
The modern indoor arena is 20 x 40 m, which could be extended to a 20 x 60. The outdoor is Olympic size 20 x 60 m. There is a round pen and walker for 6 horses. 
There are three main stable buildings that house 41 boxes in total. The main stable building has 16 indoor stalls, a solarium, an indoor and outdoor wash bay, two tack rooms, a feed room and a toilet. There is wooden stable building with 7 outdoor boxes
There is a separate stallion barn with seven paddock stalls built in 2015 as well as a phantom and two laboratory rooms. There is a quarantine barn and an open youngster stall for 20 colts/fillies. 
The third building has 9 indoor boxes and a tack room and two extra boxes are close by for guests or quarantine. 
There are paddocks for 25 horses, 2 mare stalls with CCTV. All paddocks have automatic waterers.
There is a small riders' lounge/bar with terrace and pond.
There is a special hangar for tractors and other farm equipment
Expansion Potential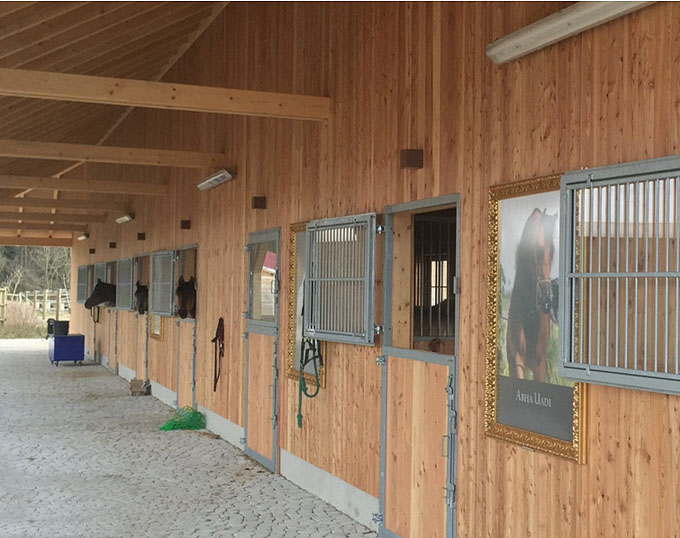 The building offers the opportunity to expand the living space to another 400 m2.
There has also been handed in a request for a permit to built four holiday homes (in total 180 - 200 m2) above the smaller stable building.
Asking Price : 3.950.000 euro
For further details, more photos and to schedule a viewing of the property, contact