Real Estate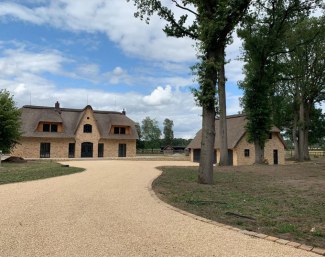 This is an exclusive opportunity to rent a ground floor apartment in a luxurious North German cottage with the option to stable up to 9 horses at a professional, state of the art equestrian yard.
Located in the greater Münster area on the lovely German countryside, this property combines both the charm of traditional North German architecture and the appeal of modern luxury.
Ground Floor Apartment
Construction has been finished in 2019. The property consists of a three-car garage, a small bath house which is yet to be restored and a main house. Both the garage and the main house have been equipped with thatched roofs. The main house divides into two separate apartments, each extending over a whole story.
The ground floor apartment features a child-/guestroom with en suite bathroom, a guest bathroom, a luxurious master bedroom with en suite bathroom as well as a spacious living room with an open, high-end kitchen and a gas-operated fireplace.
The whole house is controllable via a digital control unit, thus meeting the latest technological standards.
Possibly the biggest asset of the property is the brand-new riding facility directly adjacent to the estate. It is possible for the tenant to lease up to 9 boxes in this exclusive environment. 
Equestrian Centre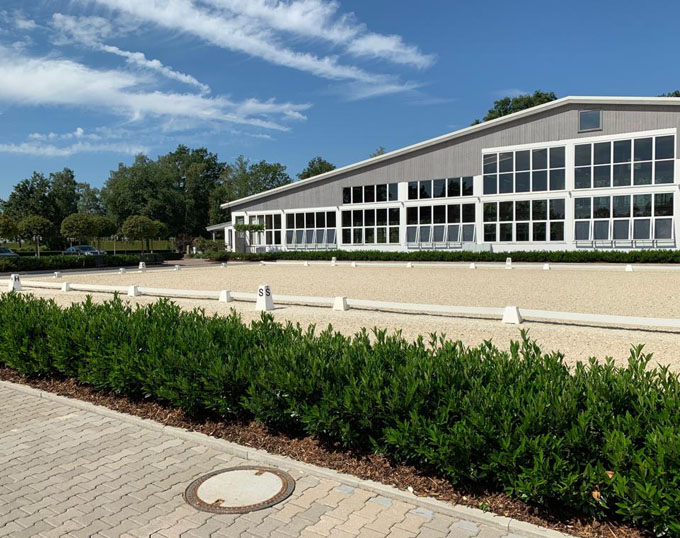 Like the apartments, the riding facility has been constructed in 2019 and was designed to meet every requirement of modern high-class equitation. The building is completely self-sufficient, combining all the major features under one roof.
The center provides four washing areas, a laundry room, two tack rooms, a storage room, a longing arena and a Horse Health Care Area equipped with SPA and Aqua Trainer.
The indoor Arena (20x40m) is accessible from two sides and can be viewed from out the superior sales-/ recreation room that is equipped with an office, high-standard restrooms, a large, living-room- like space and an open kitchen. A special, high-quality footing has been used on the main outdoor arena (33x70m) to provide an optimal riding experience. It also features a tide system for perfect irrigation.
Next to the facility, there is one more indoor arena (25x60m) and two more outdoor arenas. The center provides a perfect environment for dressage riders and show jumpers alike.
Training in dressage riding up to grand-prix levels can be offered. International top-tier show jumpers can be booked for training as well.
Location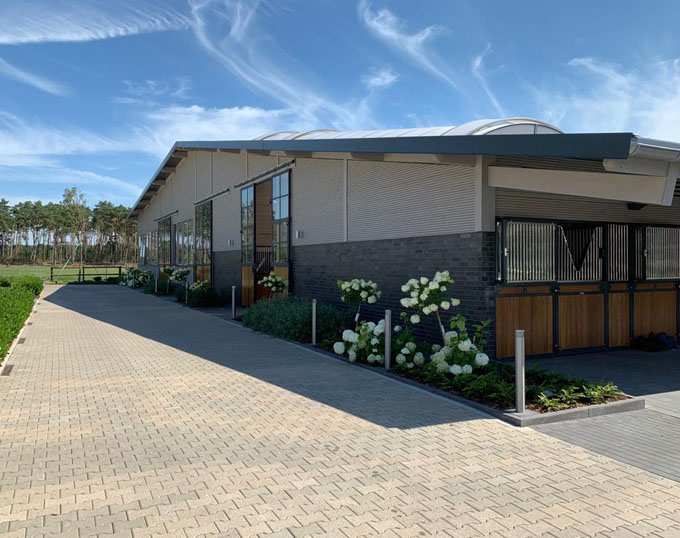 The property is in the area of greater Münster. The two larger cities nearby, Osnabrück (P: 162,000) and Münster (P: 310,000) are approachable within 30-40 minutes by car.
The airport Münster/Osnabrück (FMO) is even closer and reachable by car within 12 minutes. A smaller city (P: 51.000) is accessible within a 10 minutes ride and offers the most important stores, such as grocery stores.Availability On request.
Contact