Germany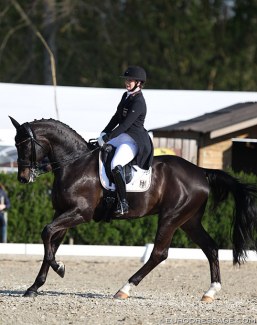 The German equestrian federation has announced the riders that have been nominated to compete at the 2019 CDIO-PJYR Hagen on 11 - 16 June 2019.
The "Future Champions" competition at Hof Kasselmann in Hagen is the second German team observation and selection trial for the 2019 European Championships for Ponies (in Strzegom, Poland) as well as for children, junior and young riders (in San Giovanni in Marignano, Italy).
Based on the riders' performances at the 2019 Preis der Besten last weekend, the team trainers Connie Endres and Hans-Heinrich Meyer zu Strohen nominated the following riders for Hagen.
The riders selected on the CDIO teams will most likely constitute the actual team for the European Championships unless someone performs below par or a CDI rider above his/her level.
Pony Riders - CDIO
Antonia Busch-Kuffner - Daily Pleasure WE and Kastanienhof Cockney Cracker
Johanna Kullmann - Champ of Class
Rose Oatley - Daddy Moon.
Pony Riders - CDI
Lana-Pinou Baumgürtel - Massimiliano FH
Lucie-Anouk Baumgürtel -Coriander FH
Shona Benner - Der kleine Sunnyboy
Lena Bücker - Cosmopolitan
Antonia Busch-Kuffner - Kastanienhof Cockney Cracker
Sophie Luisa Duen - Del Estero NRW
Julian Fetzer - Daddy's Daydream
Lara Middelberg - Drink Pink
Paulina von Wulffen - Dujardin B or Top Queen H
Children - CDIO
Allegra Schmitz-Morkramer - Lavissaro
Clara Paschertz - Belvedere
Lisa Steisslinger - Havanna Negra
Children - CDI
Jona Emily Bomberg - Sinatra M
Marie Holtfreter - Frieda Gold H
Leonie Koch - Floriano HB
Antonia Elisa Kurp - Davinio
Antonia Müller - Fleur S
Charlotte Rentrop-Schmid - Prinzess
Allegra Schmitz-Morkramermit Tropensonne
Kenya Schwierking - Dinos Boy
Lisa Steisslinger - Caddylack
Marlene Usbeck - Adriano
Junior Riders - CDIO
Lucie-Anouk Baumgürtel - Sweetheart FH
Anna Middelberg - Blickfang HC
Valentina Pistner - Flamboyant OLD
Junior Riders - CDI
Romy Allard - Summer Rose OLD
Luca Sophia Collin - Descolari
Liselott Marie Linsenhoff - Danönchen OLD
Franziska Nölken - Rigamento Royal
Henriette Schmidt - Rocky's Sunshine
Jana Schrödter - Der Erbe
Emely van Loon - FBW Despereaux
Elisabeth von Wulffen - Dancing World
Young Riders - CDIO
Paulina Holzknecht - Wells Fargo
Semmieke Rothenberger - Dissertation
Lia Welschof - Linus K
Alexa Westendarp - Four Seasons
Young Riders - CDI
Franz-Otto Damm - Lifestyle
Helen Erbe - Fürst Kaspar
Linda Erbe - Fierro
Nadine Krause - Dancer
Luca Michels - Rendezvous
Raphael Netz - Dior and Franziskaner
Sophie Reef - Rue Noblesse
Semmieke Rothenberger - Geisha
Selina Söder - Scuderia
Lia Welschof - Don Windsor OLD
Alexa Westendarp - Belmore
Photos © Astrid Appels
Related Links
Busch-Kuffner, Schmitz-Morkramer, Pistner, Rothenberger Win 2019 Preis der Besten
Polish Teams Selected for the 2019 CDIO-PJYR Hagen
French Teams Selected for 2019 CDIO-PJYR Hagen