Yard for Rent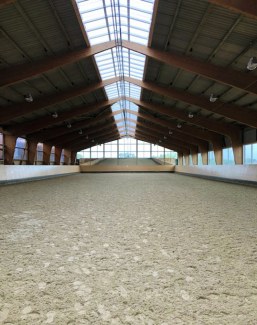 International Grand Prix riders Nuno Palma e Santos and his partner Antonia Christine Jacobsen are opening their yard to a professional or one single rider who wants to locate their training base in a beautiful farm near Hamburg, Germany.
They are offering boxes to one person as of the beginning of June 2019. This is a unique opportunity to be based in a quiet, private facility surrounded by three Grand Prix professionals. 
Services provided are mucking and feeding, but no paddock turnout. Each person has their own grooms for the daily care taking of their horses. 
The yard offers a private atmosphere with great facilities and is located in Moorrege, near Hamburg in Germany. It is conveniently located near motorways A7 and A23 for easy traveling to horse shows across Europe.
Up to 18 boxes are available and there are paddock stalls as well as normal stalls available.
The yard includes a 20 x 60 m indoor with top footing, a smaller 20 x 40 m indoor for lunging and the riding of young horses. There are two 20 x 60 m outdoor schools and a horse walker. Each stable block has a tack room and its own solarium. Furthermore there are sand and grass paddocks as well as fields for turnout.  The property also includes a garage for a lorry. 
Those interested in renting boxes at this yard can contact