Real Estate
Exclusive opportunity to buy an inspiring Tuscan countryside retreat with swimming pool and olive grove set on a hill overlooking the Appenines in between Arezzo and Cita di Castello. This gorgeous villa in authentic Casa Colonica style is completely renovated with high quality materials and equipped for all modern comfort.
Ideal summer holiday house for family and friends and great rental opportunies as it goes at 4500 euro per week in the high season!
Renovated Tuscan Country House
This Tuscan hilltop property sits 600 m high overlooking the centuries unchanged Tuscan landscapes. Fully restored inside and out in 2006, the main house retains completely its original aspect with authentic tile flooring and ceilings. There are five bedrooms, all with ensuite bathrooms over two floors as well as an attic which can easily be converted into a sixth bedroom.
This typical Tuscan villa comes fully furnished. It has a ground and top floor, which are separately accessible by both interior and exterior staircases to allow for independence. The ground floor has a fully dressed kitchen, a dining room and sitting room with an open fire place. The top floor features three bedrooms, a mezzanine with tv room, and access to the attic. There is wifi and an internet hookup. Outside there is an original bread oven.
A small renovated chapel on the property, overlooking the valley and a picturesque, walled Tuscan village, could be converted into a romantic guest house or bed & breakfast opportunity.
Garden with Stunning Views and Big Swimming Pool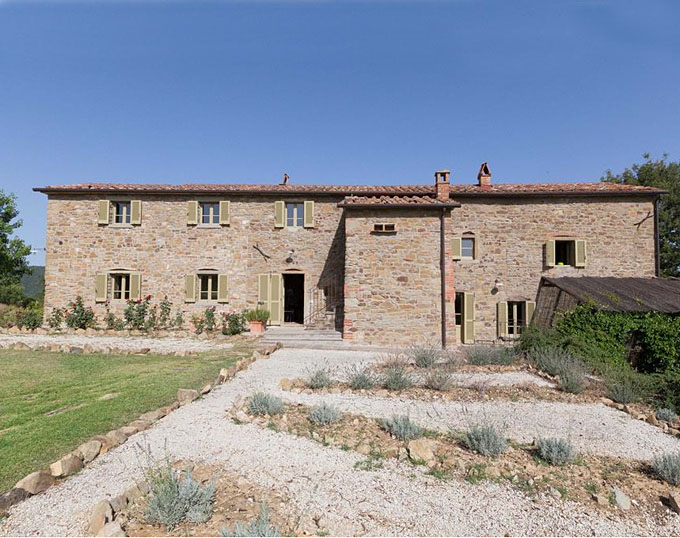 Two pergolas and an open veranda offer wonderful outdoor living space with stunning views. The landscaped garden, with lavendar and rosemary bushes, is 15,000 m2 with a large 6 x 15 m swimming pool. A technical room below the swimming pool provides ample storage for a lawnmower, washer, dryer, and furniture.
The property has over 7.5 hectares of garden, olive grove and woodlands. The approximately 50 olive trees - old and young ones - produce excellent home grown oil. A well provides an abundance of fresh drinkable water for the household as well as for the automatic irrigation system in the garden. Two gates and an electric fence secure the garden.
Due to its splendid position on a hill top, the views are unobstructed and unspoilt over 360°.
The nearby village is connected with a good road and can provide in all needs for food and services (bank, post offices, supermarket, renowned restaurants).
Central Location with Easy Motorway and Airport Access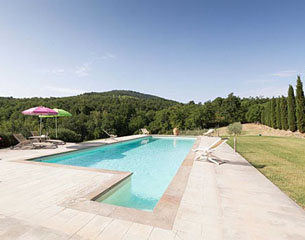 This villa is very well located with easy access by car or train to all the cultural cities in Tuscany and Umbria (Arezzo, Siena, Firenze, Perugia) as well as Rome.
Plenty of major and small airports with international destinations - such as Pisa, Bologna, Firenze, and Perugia - are within one to two hour driving distance. All served by the major as well as low-cost airlines.
The sea - both Adriatic and Thyrenean - are within a distance of 150km.
A local riding club as well as a renowned Italian dressage horse breeding farm (Fonte Abeti) are 10 minutes down the road and the fantastic Arrezzo Equestrian Centre (which hosts the Global Champions Tour) with its state-of-the-art facilities is just a short 30 minute drive from the villa.
Once in a Lifetime Opportunity
This exclusive, private countryside retreat is a dream for any Italy lover who wants to enjoy the pure Tuscan lifestyle with its fabulous weather.
This small description is incapable of revealing the real charm and fine living quality of the place. Only a live viewing of this property can reveal the magic it has held and created for its owners, who now wish to downscale due to age.
This is also an ideal investment project for summer holiday rentals in highly popular Tucany. 
Offered for a realistic market price, on request.
Serious enquiries can get in direct contact with the owner via Eurodressage:
Or contact our Italian real estate agent Victoria Greenwood at Abode


Panorama Views from the garden