Foal Auction Borculo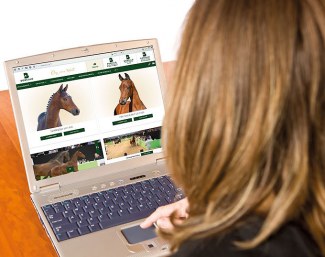 In 1979, the first edition of Foal Auction Borculo took place. Now, exactly 40 years later, the Netherlands' first foal auction still belongs to the crème de la crème of foal auctions and hasn't lost any of its ambitions. Therefore the Foal Auction Borculo organisation won't let the great milestone go unnoticed in 2019.
One of the initiatives to celebrate the 40th anniversary is the introduction of the Borculo Online Foal Auction! With this auction, you can buy Borculo-quality foals completely online. The collection offered consists of ten genetically high-quality dressage and jumping foals.
The Borculo Online Foal Auction runs from Friday, April 26 till Monday, April 29 2019. More about this auction can be found on the website from March.
The former website has already been completely renewed, which makes it worthwhile to take a look at www.foalauctionborculo.com. The new website is not only equipped to suitably auction high-quality foals online but also has a new look and feel, is user-friendly and of course provided with all the relevant information for our breeders, customers and other parties interested. Last but not least, we're introducing a completely new logo to celebrate the start of what promises to be a special year.
Next to the Borculo Online Foal Auction, our two other auctions can also be put on the 2019 calendar. On Friday, May 24 we will organise the second edition of the Borculo CSI Foal Auction for jumping foals during Jumping Schröder Tubbergen. On Wednesday, August 28 (jumping foals) and Thursday, August 29 (dressage foals) the well-known Borculo Elite Foal Auction will take place at PSC Lichtenvoorde in Vragender, Netherlands. As of today breeders can register their foal(s) for one of our auctions.
About Foal Auction Borculo
The first foals' auction in the Netherlands, 'Borculo' has been a household name in the equestrian world since 1979. This is partly due to the fact that the organization has always been progressive and innovative. Well-known is the Elite Foal Auction, traditionally held at the end of August. More recently, two new auction concepts have been introduced: the CSI Foal Auction and the Online Foal Auction. The organization of all these auction events is in the hands of the National Elite Auction Borculo Foundation.
More information on www.foalauctionborculo.com
Related Links
Vesuvius van 't Zuyderbosch, Price Highlight of the 2018 Borculo Foal Auction
Mackenzie Texel, Price Highlight of the 2017 KWPN Foal Auction Borculo
Luxury Star-K van 't Kattenheye, Top Seller at 2016 KWPN Foal Auction in Borculo
Kyton, Top Dressage Seller at 2015 Borculo Foal Auction
Joolz, Price Highlight of the 2014 Borculo Foal Auction
I'm Special, Price Highlight of the 2013 Borculo Elite Foal Auction 
High Five, Price Highlight of 2012 Borculo Foal Auction
Gambo, Price Highlight of 2011 Borculo Elite Foal Auction
Excellent Average Price at 2010 KWPN Foal Auction in Borculo