British Dressage News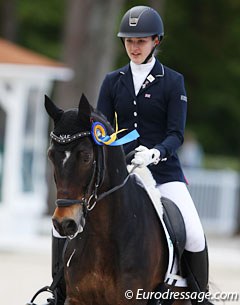 The British Dressage Pony Selectors Andrew Harris, Pam Bushell and Sue McMahon have announce the British Pony Dressage Team for the 2017 European Championships in Kaposvar, Hungary on 25 – 30 July 2017.
Chief Pony Selector Andrew Harris said; "It's been a very strong group this year which has made the competition for a place on the team fierce and made our job very tough! The chosen four have all proved themselves and with two more than capable reserves, it shows the strength in depth we have in the pony programme. We're all looking forward to the trip to Hungary and hope we can do everyone proud."

The selected quartet and reserves will head to Kilbees Farm for a final training camp with team trainer Darryl Thickitt on 18 – 19 July before the ponies travel to John Parker International Horse Transport headquarters in Kent to stable overnight ahead of their journey to Hungary.
The team includes:
Megan Barratt (15) with Susan Barratt's Valido's Starlight (bay, gelding, 14.2hh, 13yrs, s. Valido)
Anya Kolleth (16)  with Phoebe Peters' SL Lucci (brown, gelding, 14.2hh, 15yrs, s. Lukas)
Charlotte McDowall (15) with Samantha Brown's LE Chiffre (chestnut, gelding, 14hh, 10yrs, s. Caesar 171)
Sophie Taylor (14) with Becky Moody's Madam's Miss Maria (bay, mare, 14hh, 12yrs, s. Wolhoeve's Silco)
Non-travelling reserves:
First - Holly Kerslake (13) with her own and Carl Trock's Valhallas Zorro (black, stallion, 14.1hh, 8yrs, s. Valhallas Lord Matrafal)
Second - Jessie Kirby (14) with Charlotte Dujardin's Cruz III (chestnut, gelding, 14.1hh, 8yrs, s. Caesar 171)
Photo © Astrid Appels
Related Link
Eurodressage Coverage of the 2017 European Pony Championships