German Dressage News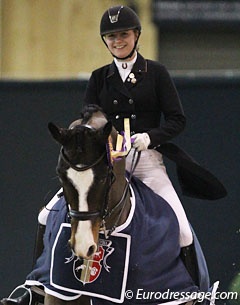 The German equestrian federation has named the riders who are in the running for team selection for this summer's European Pony, Children, Junior and Young Riders Championships.
Based on the performances of the riders at last weekend's Preis der Besten, the team trainers and German federation created a long list of riders per division who are eligible to compete in the two German team selection trials: the first one at the national leg of the CDI Wiesbaden (1 - 5 June) and the second at the Future Champions CDIO-PJYR Hagen (13 - 18 June). 
For the Nations' Cup in Hagen, the Junior and Young Riders' team have already been named and include the best scoring riders at the Preis der Besten. The junior ream includes Linda Erbe on Fierro, Rebecca Horstmann on Friend of mine and Johanna Sieverding on Lady Danza. The German young riders team includes Hannah Erbe on Carlos, Semmieke Rothenberger on Geisha and Jil-Marielle Becks on Damon's Satellite. The pony team will be named after Wiesbaden.
The long listed German combinations in the running for team selection are:
Pony Riders going to Wiesbaden
Philipp Merkt - De Long
Moritz Treffinger - Top Queen H
Jana Lang - Cyrill
Tabea Schroer - Danilo
Romy Allard - Dujardin B
Julia Barbian -Der kleine König
Lea Marie Golkowski - Die feine Chanel
Laura-Franziska Riegel - Equestricons Lord Champion
Nele Löbbert - Carlos WEand Contra
Anna Middelberg -Drink Pink
Pony Riders going to Hagen
All the above
Sophia Ritzinger - Den Ostriks Dailan
Lucie Anouk Baumgürtel - Massimiliano 
Laura Stuhldreier -Tesio
Junior Riders
Bettina Nuscheler  - Fascinate
Cosima von Fircks - Diabolo and Easy Fellow
Marlina Garrn - Di Baggio
Nadine Krause -  Dancer
Liselotte-Marie Linsenhoff - Danönchen OLD
Lana Raumanns - Feodor
Linda Erbe- Fierro
Lia Welschof - Linus K
Ninya Wingender -Royal Flasky Jack
Rebecca Horstmann - Friend of mine,
Johanna Sieverding -Lady Danza
Marlene Sieverding - Belvedere
Young Riders
Franziska Schwiebert - Hogholm's Facel-Vega
Ann-Kristin Arnold - Rio de Janeiro
Semmieke Rothenberger- Geisha und Dissertation
Anna-Christina Abbelen - First Lady
Hannah Erbe - Carlos
Luca Michels - Rendezvous
Sophie Stilgenbauer - Scharon
Jil-Marielle Becks - Damon's Satelite
Lisa Breimann- Aida Luna
Maike Mende - Rothschild
Ann-Sophie Lückert -  Fairmont
Leonie Richter - Babylon
Alexa Westendarp -  Der Prinz
The 2017 European Children, Junior and Young Riders Championships will be held at Den Gouberg in Roosendaal, The Netherlands, on 13 - 18 August. The 2017 European Pony Championships are held in Kaposvar, Hungary, on 25 - 30 July 2017.
Die Dressureuropameisterschaften der Junioren und Jungen Reiter findet vom 13. bis 18. August im Pferdesportzentrum Den Goubergh im niederländischen Roosendaal statt. Die Ponyreiter ermitteln ihre Europameister vom 25. bis 30. Juli im ungarischen Kaposvar.
Germany will be fielding a team in the Children's Nations' Cup held at the CDIO Hagen Future Champions. The team includes:
Helena Ernst -  Rose Magic
Franziska Haase - Lorentino
Joya Catharina Stolpmann - Dajano 
Reserve: Emma Caecilia Lienert- Denario
For the CDI Children's tour the following riders are nominated:
Felicia Sophie Franzen - Lucky Boy
Alina Hahn - Riana
Michelle Moß -Cumberland Jack
Isabelle Rüdiger - Laera R
Hannah Schaffler -  Supreme Court
Olivia Schmitz-Morkramer - Tropensonne
Maja Schnakenberg -  Donna-Noblesse. 
Reserve 1: Antonia Gress - Desperado SV
Reserve 2: Theresa Bröker - Froop O
Reserve 3: Marie Holtfreter - O'Nelly
Reserve 4: Lara Arndt  - Fiordiligi
Photo © Astrid Appels
Related Link
Baumgurtel, Horstmann, Becks Win 2017 Preis der Besten