Stallion Market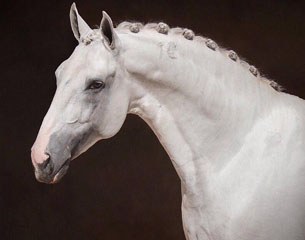 Bariloche JGR is an eye-catching Lusitano licensed stallion. Powerful and typical for his breed with an outstanding temperament, this stunner was the 2016 Portuguese Medium Tour Champion, now a talented big tour performer, and already has successful offspring on the ground.
Name: Bariloche JGR
Breed: Puro Sangue Lusitano
Approved for Lusitano stud book, with label recommended 4* approved with 78,5 pts with 9/10 for the gaits
Sire: Rouxinol JGR ( by Xaquiro CI)
Dam: Orgulhosa GUB
Dam Sire: Hostil JGB
Height: 1m70
Stud fee: contact the owner
Stud fee depends on geographical location - frozen semen certified and available worldwide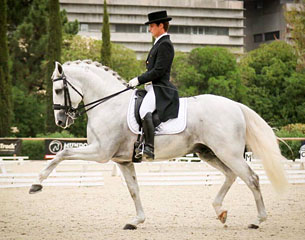 Bariloche JGR is a Lusitano stallion with a lovely, typical model and a tremendous talent for dressage. Bred by João Pedro Rodrigues, the master rider in chief of the EPAE (Portuguese School of Equestrian Art), Bariloche JGR was the Champion of champions of the breed at 3 years old and vice-champion of champions at 4 years old. He won many gold medals in breeding shows.
Winner in many dressage tests from FEI Young Horses level for 5 and 6 years old (scores up to 83%) to Grand Prix tests. He beame the 2016 Portuguese champion at Medium Tour level with scores of 72,060% & 71,160% and at the beginning of 2017 he won his 2 first Grand Prix (68,400%). 
At their international Grand Prix debut at 2017 CDI Medina Sidonia, Vasco and Bariloche produced incredible achievements during an intense week of two CDIs in Spain. Four podium places in four tests with a victory in their last test and always improving their scores: Grand Prix : CD3* 69,580% and CDI4* 69,980%, Grand Prix Special CDI3* 70,098% and CDI 4* a victory with 70,510% which are stunning results for absolute newcomers on the scene.
They closed this first year at international Grand Prix level with a selection on the national team for the 2017 European Dressage Championship in Gothenburg, where Portugal achieved a historical 6th place in front of many big dressage nations. In 2018, in their second year at big tour level, they confirmed their quality by achieving victories and good rankings at several CDI's, achieving scores of 70,783 % in Grand Prix and 71,596% in Grand Prix Special with still much room for improvement.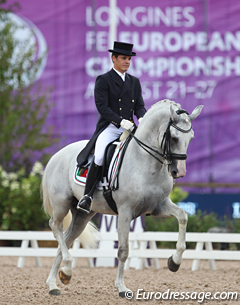 Bariloche has a lovely temperament for a stallion, he is very willing to work hard and never scared of nothing, even if he lost his dam in the very early days of his birth. He has been raised bottle fed as an orphan. His temperament is outstanding. He is very attached to human being because of this past but still shows good respect for the people who take care of him.
With his stunning gaits, which he passes on to his progeny, Bariloche JGR is a clear dressage horse producer. He especially transmits his spectacular freedom of shoulder. His progeny is still young but already shows excellent gaits.
Owner Contact Info
Photos © Rita Fernandes  - Astrid Appels