2015 U.S. Dressage Championships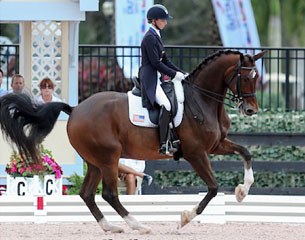 Laura Graves and her Dutch warmblood Verdades built on their lead in 2015 U.S. Grand Prix Championship in Wellington, Florida, on Thursday 10 December 2015 by winning the Grand Prix Special and taking a firm lead on second and third placed rider Steffen Peters on Akiko Yamazaki's two horses, Rosamunde and Legolas.
Increasing her lead in the overall standings, Graves (Geneva, Fla.) and her own Verdades impressed with a fluid and dynamic test, scoring 77.137%. The GP Special contributed 40% towards the overall championship score, the 2014 Reserve National Champions now lead by almost three points on an overall total of 65.262.
"This is normally a better test for us; the transitions in [the Grand Prix Special] seem to work better for this horse. I was really happy with my canter half-passes; they rode really nicely. Our changes felt good. It was steady – when I stepped on the gas, he was there for me and was excellent."
Maintaining second and third place overall and finishing second and third in today's test, was Steffen Peters (San Diego, Calif.). His Four Winds Farms owned mounts swapped places on the leaderboard though, with Rosamunde now sitting in second and Legolas 92 extremely close behind in third. After disappointing performances for Peters on day one, his Special tests proved his masterful ability to put yesterday out of mind and rise to the occasion.  Rosamunde performed beautifully for Peters, scoring a 74.549% and moving up to second on the leaderboard with 62.499. Sitting mere fractions of a point behind his stablemate was Legolas 92, earning a 72.412% in the test and dropping to third in the championship rankings on 62.364.
Speaking fondly of Rosamunde's performance, Peters said of the mare: "For an eight-year-old horse, it's the best test she's done so far. I can't really pinpoint a single movement, it was just the overall feeling – how she floats through the test and how awesome the connection is. The highlight of the test is really how she tries for me."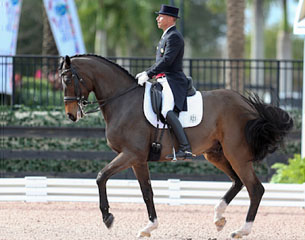 Competition continues Saturday with the eagerly anticipated Freestyle test.
Photos © Sue Stickle
Related Links
Scores 2015 U.S. Dressage Championships
Karol Wins Inter I, Vinios Maintains Lead in 2015 U.S. Small Tour Championship
Vinios Wins Round One of 2015 U.S. Small Tour Championship
Laura Graves Takes the Lead in the 2015 U.S. Grand Prix Championship