Stallions at Stud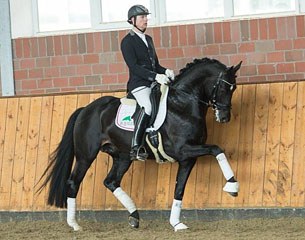 The gorgeous, black Dutch warmblood Tolegro is one of the first fully licensed and performance tested Totilas' sons available to mare owners on the breeding market! Sired by the legendary Totilas out of the same dam line as the sire of world record holder Valegro, Tolegro offers unique DNA to dressage breeders in Europe.
Name: Tolegro
Breed: KWPN Dutch Warmblood
approved for the German Oldenburg society (GOV), Westfalen, Rhineland, all South German breed societies
WFFS negative n/n
Year of Birth: 2011
Sire: Totilas
Dam: Tewri
Dam Sire: Krack C x Ferro x Variant
Height: 1.68 m
Stud Fee: 650 euro (Frozen semen)
Tolegro is an eye catching stallion that has impressed breeders and dressage aficionados in Europe with his incredible charisma, gorgeous looks, correct conformation and powerful basic gaits. Tolegro is a discovery of the international German Grand Prix rider Bernadette Brune, who bought this shiny black stallion as a foal.
At the 2013 Oldenburg stallion licensing in Vechta, Germany, Tolegro stood out with his noble self carriage and his optimal, active hind leg usage. At the lunge line he showed ideal riding horse qualities, which he is now confirming under saddle as well. In freedom Tolegro is simply spectacular with a powerful, quick hind leg, much lift in the withers, freedom in the shoulders and always moving with an uphill tendency.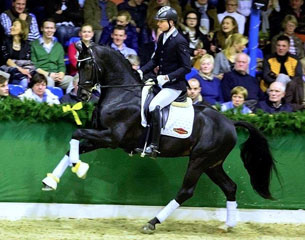 Tolegro successfully completed his 30-day Stallion Performance Testing in Schlieckau in December 2014. Tolegro's first crop of foals arrived in the spring of 2015 and fulfill the high expectations: His foals are beautiful and long-legged types, which have been awarded with premium titles and were sold at the Elite foal auction in Vechta.
The now 8-year old Tolegro is in training with his owner Bernadette Brune and her assistent Anja Engelbart. Anja and Tolegro achieved their first S placing at the 2019 CDN Zierow at Developing Prix St Georges Horse level.
"I've already ridden a lot of horses in my life, but to ride Tolegro is something very special," Brune explained. "I get goosebumps just thinking about it. He always starts out in a not so spectacular way and you would think he's a pony, but once you ask him to go forward, his engine roars and he just floats. Such an incredible feeling, also in canter! When he's schooling the pirouettes you know they will be as spectacular as those performed by his daddy Totilas."
Tolegro has offspring all around the world after filling his book with breedings in Germany, Switzerland, France, Great-Brittan, Italy, Iceland, Sweden, USA, and Australia. 
His foals are big, elegant and long legged. In Switzerland Te Quiero de Monfirak (by Tolegro) finished fifth at the 2016 Swiss Foal Championship and the year before his full brother Tolas de Monfirak was fifth at the 2015 Swiss Foal Championship. Tiburon BMF (by Tolegro x GB Don Calypso) became the champion at the 2016 Swiss Regional Foal Championship in Frauenfeld. He also sold at auction for 12,000 CHF. In France  Feeling de Bonnaire  finished sixth at the 2015 French Foal Championship. At the 2015 Bavarian Elite Foal Auction, the third most expensive foal was a black colt by Tolegro x Florencio.
Tolegro's Son BB (by Tolegro x Welt Hit Vi) has been selected for the 2019 Oldenburg Saddle Licensing in April. See his video embedded on this page. 
Tolegro's sire Totilas wrote history with electrifying performances at the 2009 European Championships in Windsor and 2010 World Equestrian Games in Kentucky, where he broke record after record and claimed triple gold. He also became the 2010 World Cup Finals' winner. In 2011 he sold to Germany and was member of the silver medal winning German team at the European Championships. Under Matthias Rath he also became the double German Dressage Champion.
Totilas' DNA is highly wanted in Europe but his expensive stud fee makes him virtually inaccessible for many breeders. With Tolegro you get the opportunity to breed with these valuable genetics at an affordable price! At the moment Tolegro has sired the most foals of all licensed Totilas' offspring, with over a hundred foals born already.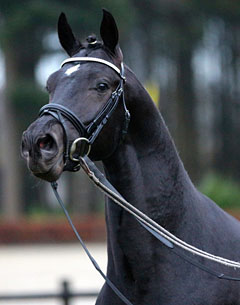 Tolegro's dam Tewri (by Krack C x Ferro x Variant) is a cousin of KWPN keur stallion Negro (by Ferro x Variant), who sired current world record holder and Olympic champion Valegro. Grand dam Leandra produced licensed stallion A Big Pleasure (by Aachen), the M-level dressage horses VIP (by Polansky) and Useful (by Polansky) as well as the brood mare Wild Pleasure (by Jazz), who produced the licensed stallion Dark Pleasure (by Ufo).
From this Dutch dam line (dam line 256, breeding family 505) cames Keur stallion Negro as well as sport horses Uddel (Paul Estermann), Suleika (Luiz Francisco De Azevedo), Opala (Hilde Woudstra) and Orlana (Arzu Komili).
Tolegro has a very friendly, gentle disposition but is a goal-getter in the show ring. This showman should pass on beauty, elegance, and athleticism. Due to his genetic make up being homozygous black, Tolegro cannot produce chestnut foals.
Because Tolegro is being focused on his dressage career, he is only available with frozen semen at the very fair price of 650 euro. 
Stud Contact Info