Opinions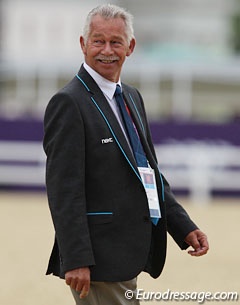 FEI Judge General Stephen Clarke submitted the following open letter to Eurodressage in response to Wayne Channon's column "Judging Has to Move into the 21st Century". Clarke not only touches upon the judging at the 2013 European Dressage Championships, but also reflects on the FEI Freestyle Judging Test Event in Warendorf this week.
Letter to the Editor
Whilst I found Wayne Channon's remarks 'interesting' on the methods that could be used to improve judging in the future and appreciate that, I'm sure, he has only the good of the sport in mind, I was sorry that he used the fact that at the recent European Dressage Championships a lower score from one judge had an influence on the medal placings, in order to further his personal feelings on 'altering the judging system'.
It may have been so, but the judge in question is a man of great integrity with much experience and would have had his reasons for giving his score. It's worth remembering that when a judge is giving their scores they have no way of knowing which scores the other judges are awarding, so it is not that a judge simply decides to give a lower or higher score than their colleagues; every judge marks what they see and it is the collective thinking of the 'team' that produces the final score, which, for the vast majority of the time is correct. If you want every judge to give identical scores for every movement then you may as well simply have one judge. To have seven judges with their scores averaged, produces the fairest score possible for each rider.
Whist I really believe that for the sport to progress we must all keep an open mind towards ideas that may improve the systems/tools that we use in order to judge the performances of the competitors, we also should appreciate that maybe things are not quite as black as they are sometimes painted.
As you can imagine I too was glued to FEI TV during the Grand Prix of the European Championships in Herning! And I have to say as an (ok maybe educated) onlooker, I was fascinated to see how closely the medal winning countries performed. But without giving actual scores myself I could only guess at the eventual outcome. In fact my gut feeling was that Germany possibly had the edge due to the quality and consistency of their riders, but as far as silver and bronze were concerned, I wouldn't have even hazarded a guess! Holland again were solidly consistent, whereas Great Britain had a 'star' performance from one rider and some uncharacteristic mistakes from another.
When the scores came through it was reassuring to see that these were also the opinions of the presiding Ground Jury, with the three best riders of Germany gaining an average percentage of 78.217%, Holland at 77.989% and Great Britain with 77.826%, it really doesn't get much closer. And that is, I think, how it came across to the public, edge of the seat, exciting sport! Indeed, stuff that dreams are made of !!
Will Connell, Head of Great Britain's World Class Performance organisation which supports the British riders, was quoted as saying out in Herning...."if you don't like being judged, don't do dressage". And I have to say that I was very proud of GB's attitude after hearing these words from an esteemed foreign colleague who was present in Herning. "One of the highlights of this Europeans … The sports behaviour of the Brits, no complaints, no stinky looks, no bad wording. An example to other countries!"
All involved with the FEI are constantly striving to develop and improve the judging side of the sport, both through the judging techniques and systems. In fact a further 'Testing day' has just been held to try out various systems for judging the Kur in Warendorf, which was very constructive and certainly thought provoking. And I know that the FEI is very keen to enlarge its educational programme through additional seminars and courses Worldwide, ably assisted by IDOC (International Dressage Officials' Club).
The system changes that have already been made, with the JSP (Judge's Supervisory Panel) acting as a safety net should a judge miss a mistake from their particular angle of viewpoint, half marks that provide more possibilities for accuracy, and the seven judge scenario that minimises the possibility of a 'difference of opinion' that may have otherwise affected a placing. Although I always keep in mind the wise words of former Chairman Eric Lette (now also a member of the JSP) who often stated during his seminars, "Every judge, in every competition, will probably make one or two mistakes, but when they do they will be saved by the scoring of their colleagues." With seven judges presiding, this makes his statement even more valid.
In the end, my belief is that we can only continue to improve standards through open discussion and education through courses and seminars. The stumbling block is of course that all of these projects cost money, both from an organisational standpoint and for all of the individuals to be able to attend. Flights and hotels don't buy themselves, and not all judges are in the fortunate position of having their National Federations fund the expenses necessary to attend these functions. Maybe Wayne could put some of his time and energy time into coming  up with some with some ideas to help raise funds for these necessary activities?
by Stephen Clarke