2013 Nordic Baltic Championships
Lifting the Danish team to victory ahead of team Finland at the 2013 Nordic Baltic Championships in Helsinki (FIN) on 14 - 16 June 2013, Danish Lena Leschly Åmand and her horse Gørklintgårds Fanero topped off the glorious team victory with individual gold and a shiny new title on her list of achievements.
Leschly Åmand finished as runner-up in the Grand Prix Team competition with 69.553% behind Finland's Emma Kanerva on Sini Spiri, but the Danish duo rose to the occasion in the Grand Prix kur Individual Final to take the golden spot with 72.3%.
"It was very fun to ride at the Baltic Champs and Fanero was fresh, even after the long drive from Denmark," Lena told Eurodressage. "I felt that during the Championship he was always doing exactly what I asked of him and like you know, we do it well"
With the highlight being the victory on the final day, Lena tried to up the degree of technical difficulty into her kur design. She felt that the risk paid off, particularly as Fanero was feeling really good. "In the kur I used more difficult movements, like piaffe pirouette coming from a canter pirouette and because he does it so nicely, we were able to take home first," said Lena. "Fanero is really good in piaffe and it was in that movement that my horse scored the top marks. We got 8.5 for it. Fanero is also very good in passage, canter pirouettes and the flying changes."
Gørklintgårds Fanero, a 10 year-old Danish warmblood stallion (by Ferro x Le Mont H x Lucky Light) is a friend and a pleasure to ride every day, according to Lena.She purchased him when he was just three years old and has trained him up to Grand Prix level herself. Entering their first Grand Prix test in March 2013, Lena and Fanero were newbies at the 2013 Nordic Baltic Championships, riding their third ever Grand Prix  and first ever kur. "Fanero met this challenge so well though, as he is always happy and likes both training and competition," she added.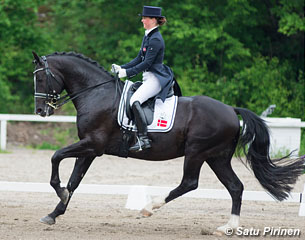 A rider at Blue Hors stable in Denmark, Lena keeps Fanero at a riding school in Hedensted where she also has a 5 year-old mare by Zack and another mare by Romantic in training. She also had a Zack foal that was born little over a month ago.
Trained by Karsten Petersen, Lena rides 4 to 5 days with some days off to rest or to go out hacking. "Fanero also goes out every day in a big paddock with lots of grass, as it is important for me that he doesn't train hard every day. Some of the days we ride easy or ride him deep and on other days I might jump him," said Leschly Åmand about her training philosophy.
Not sticking to any specific method, Lena tries only to do better for the horse in everything and her goal is to be the best in Denmark. "Fanero is for me the perfect match," she beamed. "I really like to work with him and his personality is perfect. It has been a good trip for us to Finland and it was very fun to win."
by Sarah Warne for Eurodressage
Photos © Satu Pirinen -  check out a complete photo gallery of the 2013 Nordic Baltic Championships on Satu's website
Related Links
Scores: 2013 Nordic Baltic Championships
Scores: 2008 Danish Dressage Championships