2012 Austrian Dressage Championships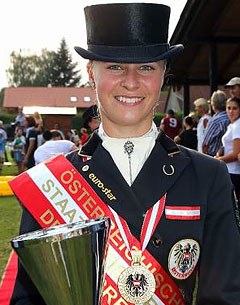 Pony rider Florentina Gisi Lorenz, junior Oliver Valenta, young rider Timna Zach and Grand Prix rider Victoria Max-Theurer won the 2012 Austrian Dressage Championships which were held at the equestrian centre Aufhof-Fernitz on 31 August - 2 September 2012. Max-Theurer achieved the Grand Prix title for the tenth consecutive time!
Due to persistent rainfall the classes on Friday and Saturday the classes had to be moved indoors. The quality of riding was extremely pleasing as the winners all procuded over 70% rides. The Grand Prix division included 13 combinations, which is a unique gathering of the country's best pairs at one venue.
Victoria Max-Theurer saddled her 14-year old Westfalian gelding Eichendorff (by Ehrentusch) for these nationals and won the Grand Prix with 73.87%. In the Kur to music finals, in which she rode a freestyle based on Udo Jurgens' music, Max-Theurer scored 77.38% to total 151.25 points to claim gold. Peter Gmoser and his 17-year old Oldenburg stallion Cointreau (by Canaster) returned to the show ring after a 9-month break due to an injury. The black stallion scored 69.09% in the Grand prix and found his groove in his Fiddler on the Roof freestyle, which earned him 73.33%. Their total of 142.86 earned them the silver. Karin Kosak and the 11-year old liver chestnut mare Lucy's Day (by La Poco x Donnerschlag) placed third twice with a 71.35% kur score for their Queen freestyle. They totalled 138,88 points and got bronze.

Lorenz, Valenta, Zach Win Gold in the Youth Riders Divisions
The youth riders' divisions had a nice starters' field between 8 and 12 pairs per age category.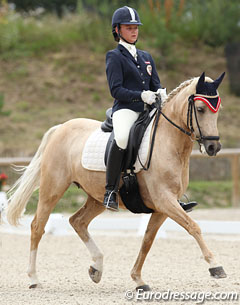 The FEI pony division was won by routinier Florentina Gisi Lorenz on the palomino Golden Juicy FL. Over two rounds, Lorenz totalled 141,677 points which earned her the gold. She was joined on the podium by Victoria Wurzinger on Sappori (138,387) and Sandrine Urbanowicz on The Mickle's Motion (134,274).
In the junior riders' division Oliver Valenta and the 13-year old dark bay Rivel were good for two victories, scoring 71.622% and 72.684% to win the national title with 144.306 points. Lisa Maria Kerbler and the Austrian bred mare Donna Rivera finished on the second step of the podium with 140.704 points, while Katharina Haas and the 10-year old chestnut Wilsberg were good for bronze 137,601 points.
Timna Zach and her brand new ride Flirt de Lully (by Florestan x Gauguin de Lully) rose to the top in the young riders division. They were unable to stay mistake free but their tests had good energy and expression. They put a 70.737% and a 71.868% on the score board to earn gold with 142.605 points. Franziska Fries an her muscled 10-year old bay stallion Alassio's Boy (by Alassio) finished in silver medal position with 137.658 points overall. Florian Lorenz and his 12-year old Westfalian bred Luigi (by Lancer x Phönix) scored a total of 137,290  points for bronze.
Photo © Michael Rzepa - courtesy OEPS.at
Results - 2012 Austrian Dressage Championships
Grand Prix
1. Max-Theurer  – Eichendorff – 151,25  --- 73,872 - 77,375
2. Peter Gmoser – Cointreau 10 – 142,86  --- 69,532 - 73,32
3. Karin Kosak  – Lucy's Day – 138,88  --- 67,532 - 71,350
4. Katrin Wergetis - Waldano – 136,67  --- 66,340 - 70,325
5. Amanda Hartung - Wolkenritter – 135,87  --- 66,638 - 69,225
 
Young Riders
1. Timna Zach – Glock's Flirt De Lully – 142,605  --- 70,737 - 71,868
2. Franziska Fries – Alassio's Boy – 137,658  --- 70,553 - 67,105
3. Florian Lorenz – Luigi 14 – 137,290  --- 68,079 - 69,211
 
Junior riders
1. Oliver Valenta – Valenta's Rivel – 144,306 --- 71,622 - 72,684
2. Lisa Maria Kerbler  – Donna Rivera – 140,704  --- 69,757 - 70,947
3. Katharina Haas  – Wilsberg 2 – 137,601 --- 68,838 - 68,76

Pony Riders
1. Florentina-Gisi Lorenz - Golden Juicy FL – 141,677  --- 70,600 - 71,077
2. Victoria Wurzinger - Sappori – 138,387 --- 68,900 - 69,487
3. Sandrine Urbanowicz – The Mickle's Motion – 134,274  --- 66,300 - 67,974
Related Links
Max-Theurer Untouched to Ninth Austrian Grand Prix Champion's Title
Max-Theurer Wields the Axe of Power at 2010 Austrian Championships
Scores: 2009 Austrian Dressage Championships
Fifth Consecutive Austrian Dressage Champion's Title for Max-Theurer
Victoria Max-Theurer, 2006 Austrian Dressage Champion