2011 CDN Zandhoven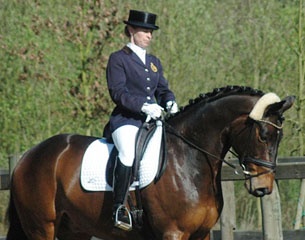 The 2011 Belgian young dressage horse show circuit kicked off last weekend with the first show at equestrian centre De Kraal in Zandhoven on Saturday 8 April 2011. The winners of the FEI young horses classes were 4-year old Lorenzo Lamas, 5-year old Botticelli and 6-year old Maxifun.
The Belgian young horse show circuit counts as official selection process for the nomination of the Belgian combinations that will compete at the 2011 World Championships for Young Dressage Horses in Verden the first weel of August 2011.
In the 4-year old division Belgian FEI rider Mario van Orshaegen steered his Hanoverian licensed stallion Lorenzo Lamas (by Laurent x Walhall) to victory with a score of 72,921 points. "I'm super happy," commented van Orshaegen on his victory. "Lorenzo rocks," he added. However, Nick van Laer was certainly breathing down the winner's neck as he finished second with a minimal point difference. Aboard Hyrano, van Laer scored 72.908 points.
Dominique Mohimont and the Dutch warmblood bred Botticelli (by Vivaldi x Koss x Pion) pushed for power in the 5-year old division, topping the class with 73.388 points. Jeroen Hannes ranked second aboard Brigitte de Biolley's grey Westfalian licensed stallion Galliani Biolley (by Sir Donnerhall x Lanciano) posting a score of 73.350.
German born but Belgian Verena Gielen-Burger aced the 6-year old division on the dark bay Rhinelander branded gelding Maxifun (by Munchhausen x Saros xx x Marinier) with 71.738 points,  beating former young rider Larissa Pauluis on the licensed stallion Don Massimo (by Don Larino x Santander) with 71.417 points.
Results
4-year olds
1. Van Orshaegen Mario - Lorenzo Lamas - 72,921
2. Van Laer Nick  - Hyrano  - 72,908
3. Van Laer Nick - Sir Donovan  - 71,026
4. Van Hulsen Yehudi - J2L Dark Chocolate  - 69,526 
5. Dewaegenaere Ona - Calucci Utopia - 69,118
6. Van Laer Nick - Fleury's Joyce - 68,250
7. Cool Isabel  - Constand - 68,197
8. Missiaen Simon - Kirmen de Mars   - 68,013
9. Goen-franckx Erik - Celene - 67,237
10. Van Bambost Steve - Concerto - 66,158
11. Ulrici Caroline  - Lord Wallonia  - 65,303
12. Horsting Toby - Hydane van de Kerkhoeve - 65,276 
13. Heylen Tom - Hermes H - 65,092
14. Reyns Erika - President s Coryphee LM - 65,040
15. Van Gerwen Sofie - Hitchcock -  64,395
16. Berden Gwendolyne - Fieke  - 57,039
5-year olds - Preliminary Test
1. Mohimont Dominique  - Botticelli  - 73,388
2. Hannes Jeroen - Galliani Biolley - 73,350
3. De Vlieger Andre  - Banner Man S - 72,500
4. Vettenburg Michelle - Dartagnan - 72,375
5. D Hoore Brecht - Beau Punto C  - 70,200
6. Horsting Toby - Bizzkit Lusan - 69,338
7. Heylen Tom - Gucci 'H' - 68,875
8. Helsmoortel Charlotte - Bvlgari  - 68,188
9. Hologne - Joux Francoise - Ariane's Sandro Fino - 66,625
10. Michiels Els - Gloria VD Wateringhoeve - 66,038
11. De Kort Marjolein - Briljantje's Wonderboy - 66,025
12. De Reus Benjamin - Leoville las Cases - 63,675
13. Wouters Deborah - Gayento V.h. Bloemenhof  - 62,300
14. De Wae Frederick - Simply Me - 62,225   
6-year olds - Preliminary Test
1. Gielen-burger Verena - Maxifun - 71,738
2. Pauluis Larissa - Don Massimo - 71,417
3. Dewaegenaere Ona - Floris Van De Helle - 70,893
4. Van Laer Nick - Don Matcho Vd Roshoeve- 68,333
5. Roos Etienne - Fil Rouge - 67,738
6. Vettenburg Michelle - Avanti- 66,512
7. Raymaekers Julie - Saint-Tropez - 58,762
Related Links
Belgian Qualifiers for the 2011 World Young Horse Championships in Verden
Vicky Smits and Daianira Make Successful Transition to Grand Prix at 2009 CDN Zandhoven