2008 World Championships for Young Dressage Horses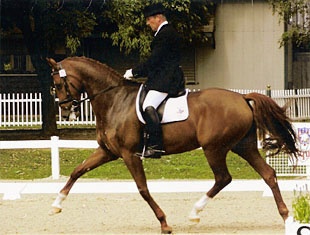 The U.S. Equestrian Federation has announced the horses that will represent the U.S.A at the 2008 World Championships for Young Dressage Horses in Verden, Germany, July 31-August 3, 2008.
The American horses qualified for Verden by scoring 8.2 or higher at one of three USEF/Markel Young Horse selection trials in the States this year or by international selection criteria when a horse, such as Rubinio and Williams, qualify abroad.
The selected Americna horses are:
5-year olds
Rubinio
Black Westfalian stallion by Rubin Royal out of Farina (by Florestan)
Bred in Germany by Jürgen Bunge
Owned and ridden by Jennifer Hoffmann of Carlsbad, CA, U.S.A.
Qualification score: 8.9
Williams
Grey Dutch warmblood gelding by Paddox out of Jaconda (by Michelangelo)
Bred in The Netherlands by GHF Kemna
Owned by Jennie Robicheaux, Houston, TX, U.S.A.
Ridden by Katie Robicheaux, Houston, TX, U.S.A.
Qualification score: 8.3
6-year old
Valeska DG
Chestnut Dutch warmblood mare by Krack C out of Polimbria (by Farrington)
Bred in the United States by DG Bar Breeders Ltd.
Owned by DG Bar Ranch in Hanford, CA, U.S.A.
Ridden by Willy Arts, Hanford, CA, U.S.A.
The Organizing committee has agreed to accept the entry of Valeska DG with a non-US rider (Willy Arts is Dutch) due to the horse being U.S-bred, U.S.-owned, trained in the I.S. and qualified via U.S. competition.
Katie Robicheaux purchased Williams from Al Guden's Hyperion Farms, Kathy Connelly and Toine Hoefs. Trained by Ed Borresen and Monica Sinks, Robicheaux travelled to The Netherlands to train her youngster with Anne van Olst and qualified him there for the 2008 World Championships.
On Saturdayl July 19, Jennifer Hoffmann and her 5 years old licensed Westphalian stallion Rubinio had their first outing as preparation for the FEI Young Horse Worldchampionships in Verden. They competed at the National Dressage Show in Greven, Germany in a national class, similar to the FEI 5-year old class with 20 horses in the class. Jennifer and Rubinio won with a score of 8.2, the second placed rider had 7.3. Obviously the judges thought that there was a big difference between the first and the second placed horse. Their all over comment was "very talented dressage horse on the correct way in his training".
Jennifer was very happy, especially considering that she is only back in Germany riding Rubinio since July 11th.
Back to the 2008 WCYH Index