German Sport Horse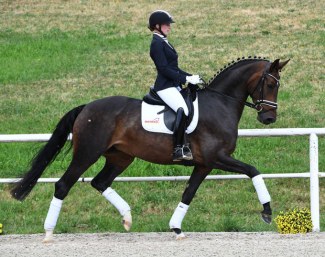 The 4-year old German Sport Horse bred Skrollan became the best selling horse at the 2018 DSP Riding Horse Auction in Marbach on 4 November 2018. 
Skrollan is by San Amour x Fidermark and bred by Katharina Hadeler. Presented at auction by Gestut Greim, Skrollan sold for 70,000 euro. 
The second most expensive horse was gelding Un Fiero (by Un Amore), which sold for 65,000 euro. 
The newly licensed stallion Malibu (by Millennium x Quaterback), bred y Frank Klakow, sold for 52,500 euro.  The colt Superman (by Sezuan x Donnerhall) sold for 43,000 euro. 
The 5-year old mare Darling (by Download x Lanthano) sold for 48,000 euro, while 4-year old gelding Daktari (by Dane Weltino x Royal Diamond) fetched 41,000 euro.  The 4-year old gelding Ferrero Kusschen (by Furst Romancier x Donnerbamm) was knocked down for 40,500 euro. 
Twelve horses sold for over 30,000 euro. 
Forty-eight horses were sold at this auction and they achieved an average price of 25,643 euro.
Complete auction results here.