Dominican Republic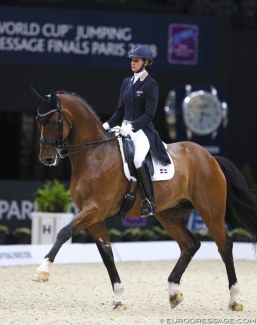 Individual competitor Yvonne Losos de Muniz has announced her withdrawal from competing at the 2018 World Equestrian Games in Tryon, U.S.A. on 12 - 15 September 2018.
After already a stellar season representing the Dominican Republic at the 2018 World Cup Finals in Paris and winning team silver and individual gold at the 2018 Central American and Caribbean Games, Losos de Muniz will not top off her year with a WEG start. A shoulder injury prevents her from taking part. 
Losos de Muniz took to Facebook and stated that "an uncomfortable shoulder injury has been troubling me for some time and now is the moment to get 100% healthy, and for that I am lucky to be able to count with top specialists in the US."
To Eurodressage she added that "it's very painful right now, have been working with doctors in New York and I go back Monday, I will probably need surgery. It's a pity but that's life! I'm just grateful for the great year so far."
Photo © Astrid Appels
Related Links
Dufour and Cassidy Withdraw from 2018 World Equestrian Games
Team Mexico and Yvonne Losos de Muniz Win Gold at 2018 Central American and Caribbean Games
Yvonne Losos de Muniz On Her Way to 2018 World Cup Finals in Paris