2018 CDI Donaueschingen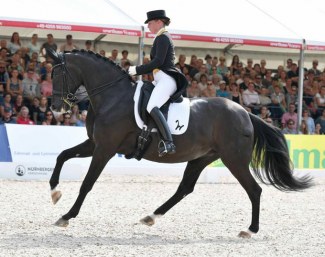 Isabell Werth has cooked up a storm by scoring a year best Grand Prix score of 82.652% on Weihegold at the 2018 CDI Donaueschingen in Germany, on Saturday 18 August 2018. 
Not only has Werth publicly declared that not Christine Arns-Krogman's 13-year old Oldenburg mare Weihegold but Madeleine Winter-Schulze's 14-year old Westfalian mare Bella Rose is her number one choice for the German WEG Team. However on her return to the show ring with Weihegold after a two and a half month break, the judges clearly expressed their favourite choice by rewarding Weihegold's come back test with a whopping seasonal best score of 82.652%.
Judges Hamoen, Schwab, Svalling, Holthaus, and Plewa were ecstatic about the ride and they all scored it above 80%. The halt at entry was not immobile, and the halt for rein back was not square. Werth had a nice energy level going in the trot work but it looked fragile in the rhythm. They rode a very good trot half pass to the left. The passage was super lightfooted, but first piaffe not entirely on the spot, the second dropped on the forehand, but was better on the spot, and the third had tons of energy and lift but traveled forward. The extended walk had nice overtrack, but Weihegold's rhythm in walk has never been the greatest. Werth rode secure two tempi changes, and there was good energy in the extended canter, but the zig zag appeared laboured with a lot of arm and hand swinging from Werth, especially at the start of the centerline. The one tempi changes were correct but they didn't cover much ground and the pirouettes were ok.
Werth has now given the German selectors a hard cookie to bite. As last leading dressage nation to announce its WEG Team, Germany needs to pick cleverly as Team U.S.A is ready to fight for gold in Tryon with Graves and Perry-Glass as star riders.
Germany's pick has become even more complicated as Sönke Rothenberger has also made his come back to the show ring on his Dutch warmblood Cosmo (by Van Gogh x Landjonker). The duo withdrew from competing at the CDIO Aachen because the horse caught an infection and was not fit to compete. The pair's last start was at the 2018 German Championships in Balve in May, where they beat Weihegold.
However the hyper sensitive Cosmo can still not prove consistent reliability in the arena. At the CDI Hagen in April the horse was not up to par in the Grand Prix and again in Donaueschingen, after a show break, he was distracted and did not perform a fault free test. He twice spooked in the corner and once resisted so badly that he reversed and stepped outside the arena with two hindlegs. Rothenberger was lucky his 11-year old didn't jump out of the arena with all four legs, as that would have resulted in immediate elimination. Sönke kept his cool though and continued the test with great focus to prevent his horse from more shying. The pair finished third with 76.196%
This gave plenty of room for Jessica von Bredow-Werndl and her 14-year old Dutch mare Zaire E (by Son de Niro x Jazz) to move into second position with 76.413%. 
Next week the national show "Turnier der Sieger" in Munster takes place, which is the final German WEG Team observation trial. There Jessica von Bredow-Werndl on Dalera TSF will get an ultimate chance to beat Helen Langehanenberg on Damsey FRH, or at least jeopardize Dorothee Schneider's potential team spot with Sammy Davis Jr or Showtime. 
Photo © Barbara Schnell
Related Links
Scores: 2018 CDI Donaueschingen
Cosmo Withdrawn from 2018 CDIO Aachen
Weihegold Out for 2018 CDI Aachen, Emilio and Bella Rose Step In
Rothenberger and Cosmo's Show Come Back Confirmed for 2018 CDI Hagen